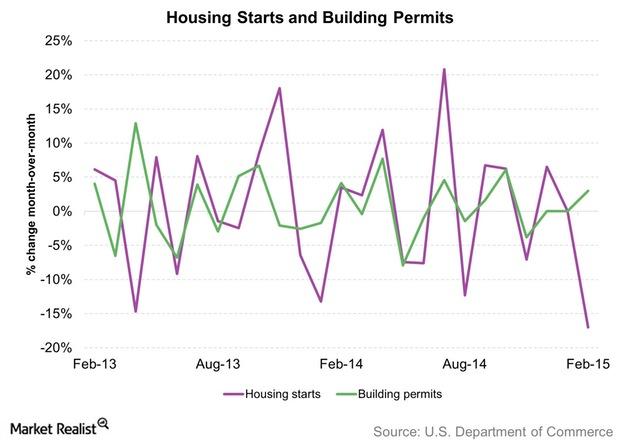 Winter Freezes Housing Starts in February
Housing starts
Housing starts measure the number of units of privately owned housing started in a given period. It includes single-family and multiple-family homes with the former dominating the private housing market.
Housing starts in the United States plunged 17% month-over-month to an 897,000 pace in February 2015, the lowest level since January 2014. Housing starts had clocked a more-than-one-million pace every month since July 2014. Even from a year-ago level, starts were down 3.3%. January's starts were revised upward to show no growth over December after initially reporting a 2% fall.
Article continues below advertisement
Information from this indicator is used to anticipate future production for homebuilders such as D.R. Horton (DRH), Lennar (LEN), and PulteGroup (PHM). It's also used to anticipate future demand for raw materials and labor costs, which affects home-related retailers such as Lowe's (LOW) and Home Depot (HD). DRH, LEN, and PHM all fell after the report was released.
The details of the fall
The possibility of harsh weather keeping construction workers away from work was the frontrunner among reasons for this sharp decline in housing starts.
Single-family homes on which construction began dropped by 14.9% in February 2015 from a month ago. Construction of structures with five units or more dived 21.6%. The fall in groundbreaking activity was across the United States with the Northeast bearing the biggest brunt. Total housing starts fell 56.5% month-over-month in February in the region. Starts for single-family homes dropped 60.7%.
The Midwest was also hit hard with total groundbreaking activity falling by 37% in February.
Among the four regions, the South saw the slowest pace of fall, with total construction activity falling by just 2.5% and construction of single-family homes falling by 5.9% month-over-month.
Article continues below advertisement
Building permits rise
Building permits indicate future demand for housing. This indicator is released in the monthly report. Permits for new construction of private homes rose 3.0% from January to 1.092 million. This increase may provide some solace to markets. While single-family permits fell 6.2%, permits for constructions with five or more units jumped 19.9%.
The South led the rise in overall permits among the four regions with permits rising 7.3% in February. For single-family home permits, only the West posted a rise, where permits rose 5.6% month-over-month. The Northeast was the highest decliner in both total permits and permits for single-family homes.
Housing starts and building permits are both considered leading indicators for the housing market. ETFs that focus on real estate or construction are affected by these indicators. These ETFs include the iShares Dow Jones U.S. Real Estate Index Fund (IYR), the Vanguard REIT ETF (VNQ), the SPDR S&P Homebuilders ETF (XHB), and the iShares Dow Jones U.S. Home Construction Index Fund (ITB).
In the next article, we'll look at the status of industrial production in February 2015.