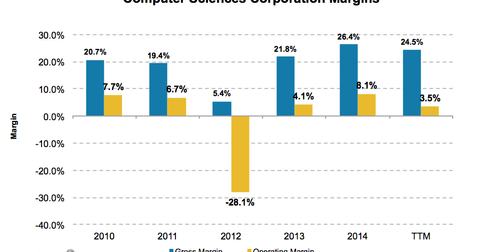 Will CSC's Aggressive Cost Cuts Help in the Long Run?
By Diana Key

Updated
CSC's cost cuts part of turnaround strategy
Previously in this series, we noted that Computer Sciences Corporation (CSC) has experienced declining revenues since 2011. There are rumors of a buyout, and the company has seen activist interest from JANA Partners.
Computer Sciences Corporation has undertaken aggressive cost cuts as part of its turnaround strategy. The majority of the cuts are taking place in the cost of revenue or the cost of goods sold. This helped CSC to improve its gross profit margin from 19.4% in 2011 to 26.4% in 2014. The company increased its operating margin from 6.7% to 8.1% during the same period.
However, CSC's margins were lower than its peers in the industry. These peers include Cognizant Technology Solutions (CTSH) and International Business Machines (IBM), which had gross margins of 40.2% and 49.5%, respectively, and operating margins of 18.4% and 18.7%, respectively.
Article continues below advertisement
In its fiscal 3Q15 earnings release, CSC expressed its objective "to increase [our] low-cost labor mix from 35% to 60% over time." It delivered $115 million of cost savings in 3Q15 and $310 million of cost savings year-to-date (or YTD). For the full year 2015, CSC expects to deliver cost takeout benefits of $450 million–$500 million.
Turnaround includes job cuts
Computer Sciences Corporation is undergoing a turnaround that involves cost cuts and layoffs. An April 2014 Washington Business Journal report stated that CSC reduced its workforce by 17% from March 2012–November 2013. Most of the cuts were made at the management level.
According to Deep Dive Research analyst Rod Bourgeois's report, CSC may go for additional layoffs, as the company is struggling to achieve its earnings per share (or EPS) guidance for fiscal 2015. The report further compared CSC to Hewlett-Packard/EDS (HPQ) and noted, "If CSC needs to pursue additional customer-facing staff cuts to reach its near-term EPS targets, this would show further concerning resemblance to the 'cuts into the muscle' executed by HP/EDS." Such a move would improve margins in the short term, but may impact revenues and margins in the long run.
Article continues below advertisement
EPS growth could be hit in the long run
For fiscal 2015, Computer Sciences Corporation has set a target of non-GAAP (generally accepted accounting principles) EPS in the range of $4.45–$4.65. For the nine months ending on January 2, 2015, CSC reported a non-GAAP EPS of $3.39. While CSC could achieve its EPS target as a result of cost-cutting actions and a lower tax rate, these factors can be temporary or unworkable in the long term, as revenue has been declining since fiscal 2011.
A Fitch release noted that it "anticipated revenue declines as part of CSC's transformation to a higher margin sales mix. However, Fitch believes an accelerated secular shift toward cloud-based services will delay CSC's return to profitable revenue growth." It further said that "CSC's 'next generation IT' (cloud, application modernization, mobility, cyber security, and analytics for Big Data) will not offset revenue declines from traditional on-premise based services in the intermediate term."
CSC is a part of the Technology Sector SPDR ETF (XLK). It also accounts for 0.28% of the iShares US Tech ETF (IYW). In the next part of this series, we'll discuss the 3Q15 results for CSC.