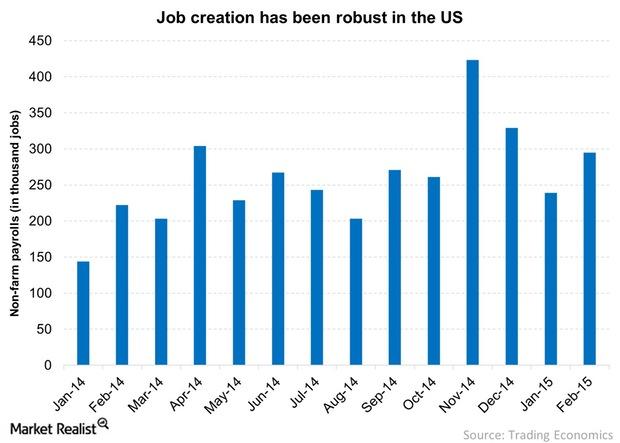 Why An Improving Economy Is Good For The Dollar
How Long Will It Last?
That's the $64,000 question, but key indicators tell us the trend is here to stay awhile. A key driver is the improving U.S. economy, with its strengthening monetary policy, better jobs numbers and surging domestic oil production, all of which support a stronger U.S. dollar. We're seeing easing in the EU and Japan, which is impacting overseas currencies. My colleagues and I believe that we will continue this dollar strengthening phase, as historically we've seen such cycles last roughly six to eight years.
Article continues below advertisement
Market Realist – An improving economy is good for the dollar.
The US economy has seen robust GDP (or gross domestic product) growth over the last three quarters. GDP increased by 4.6% in 2Q14, by 5% in 3Q14, and by 2.2% in 4Q14. The figure for fourth quarter dipped from the original estimate of 2.6%.
Meanwhile, the rest of the world (ACWI) hasn't been in particularly good shape. This is especially true for Europe (EZU)(VGK). The divergence is causing international funds to flow into US stocks (SPY)(IVV). This is one reason for the strengthening dollar (UUP). The dollar is likely to remain strong for the rest of the year as interest rates rise and the US economy gets better.
The job market has been improving, as the graph above shows, and this has been causing more investor optimism for the US economy. The economy created well above 200,000 jobs in February as well, making it the thirteenth straight month during which jobs have grown by 200,000 or more. In fact, over the last four months alone, the US economy has created about 1.3 million jobs.
Wage rates and the labor force participation rate have been benign since the financial crisis, but they are also showing some signs of improvement. This too has bolstered confidence in the economy, further strengthening the dollar.