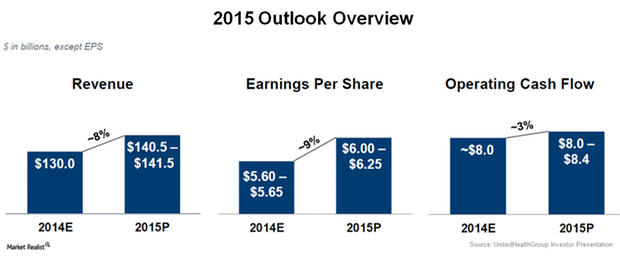 What's UnitedHealth Group's outlook for 2015?
By Margaret Patrick

Dec. 4 2020, Updated 10:53 a.m. ET
Outlook for 2015
According to the Gallup poll, the uninsured rate in the US dropped to 12.9% at the end of 4Q14—the lowest rate since 2009. The increasing insured rate, fueled by the reforms introduced by the Affordable Care Act, led to an increase in profitability for the private health insurance industry (XLV).
Health insurance companies—like UnitedHealth Group (UNH), Aetna (AET), Cigna (CI), and Anthem (ANTM)—expect this trend to continue in 2015. However, there will be some earnings pressure from the taxes and pricing changes introduced by the Affordable Care Act.
Article continues below advertisement
The above graph shows UnitedHealth Group's projected revenue, EPS (earnings per share), and operating cash flow for 2015. The projected EPS for 2015 is based on estimations for the impact of the Affordable Care Act reforms and expected business performance. UnitedHealth Group expects a revenue rise of 13%–21% resulting from increased enrollments due to Medicaid expansion and other Affordable Care Act reforms.
However, effective in 2014, the Affordable Care Act imposed an annual "health insurance fee" on private health insurance companies. The fees levied on a company are proportional to the share of the company's premiums among the total premiums the health insurance industry earns. Combined with MA (Medicare Advantage) pricing changes introduced by the CMS (Centers of Medicare and Medicaid Services), this is expected to marginally reduce UnitedHealth Group's revenue.
For more information on changes in MA pricing, read Why Medicare Advantage drives health insurance stocks.
Segment growth
It's projected that UnitedHealth Group's revenue and earnings growth in 2015 will be driven by the strong performance of the Optum segments. The segments provide healthcare services like health and well-being, pharmacy, and technology services. Optum's revenue is expected to rise by 11%. This is greater than the 8% revenue growth that's expected for the company's insurance business.