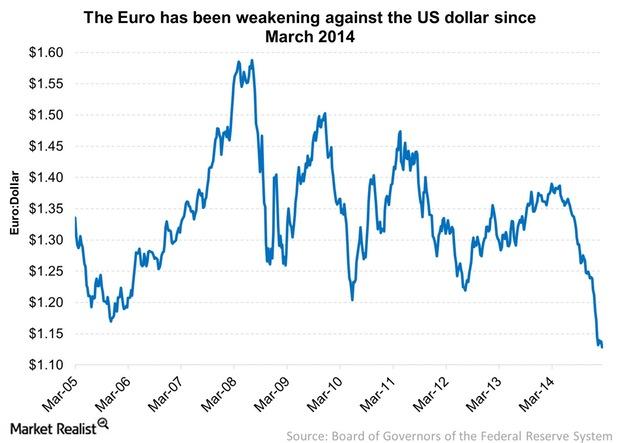 A Weaker Euro Could Lead to Inflation in Europe
By Russ Koesterich, CFA

Dec. 4 2020, Updated 10:52 a.m. ET
What is the ultimate goal for the ECB?
This impactful tool was not as accessible to the ECB as compared to other central banks. First, the legality of a QE program across the zone was in question until a recent court ruling cleared the final hurdle. Another shared reason is since the eurozone is a monetary union, not a fiscal union, the decision on which assets to buy and from which country is a politically fraught one.
Article continues below advertisement
The goal is to raise inflation from its very depressed levels and achieve price stability. ECB officials hope to weaken the euro, which should help to anchor actual and expected inflation. They will also test the theory of whether reducing yields across safe haven assets like government bonds incentivize banks to lend more. The jury is still out on this.
Market Realist – A weaker euro could lead to inflation in Europe.
The graph above shows the euro versus the US dollar over the last ten years. The cliff at the end shows the extent of the depreciation in the euro over the last year or so.
Initially, this depreciation was due to the appreciation in the dollar (UUP). The Fed had started tapering its bond (BND) buying program or QE (quantitative easing) in early 2014, which led to the dollar's appreciation against most global currencies.
However, the slowdown in Europe led to the euro depreciating against the dollar rather than the dollar appreciating against the euro. This is because most investors started withdrawing funds from European equities (EZU).
More recently, the euro weakened further after the announcement of European QE, just like the dollar weakened when the Fed rolled out QE. A weaker euro means imports become expensive, leading to higher inflation rates.
Meanwhile, a stronger dollar is negative for US exports. Also, many major US corporations have branches in Europe. Not only are these corporations affected by weaker demand in Europe, but they are also hurt by translation loss due to the stronger dollar. Caterpillar (CAT) and Procter & Gamble (PG), along with several other multi-national corporations, have reported poor earnings in 4Q14, mainly due to currency losses.