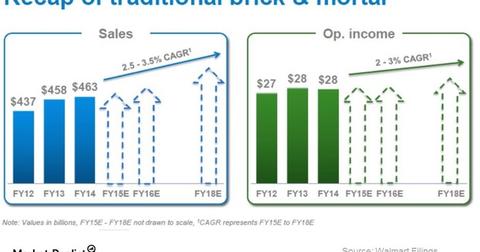 What Walmart Investors Can Expect In the Near Term
By Phalguni Soni

Updated
Walmart's outlook
In fiscal 2016, Walmart (WMT) expects EPS (or earnings per share) to come in between $4.70–$5.05. The company's EPS may decrease from the reported EPS of $4.99 this year (or $5.07 adjusted EPS). The hourly wage raises announced for ~500,000 workers, which we discussed in Parts 9 and 10, are expected to raise costs by $1 billion. The EPS impact is estimated at $0.20 per share.
The retailer (XRT) also estimates incremental investments in e-commerce to impact fiscal 2016 EPS by $0.06 to $0.09 per share. In addition, Walmart expects currency headwinds from the appreciating US dollar.
Article continues below advertisement
Revenue and growth trends
Walmart expects brick-and-mortar revenues to increase at a CAGR (or compounded annual growth rate) of 2.5%–3.5% through fiscal 2018. The company's operating income would increase by a CAGR of 2%–3%.
E-commerce
One of Walmart's best bets to achieve this going forward is to boost its e-commerce initiatives. The company expects online sales growth in fiscal 2016 to be in the mid-20s. Assuming a growth rate of 25%, this translates to $3.1 billion in incremental revenue in 2016 alone. This is also well above the rate at which online sales are growing in the US. According to the US Commerce Department, online sales grew at about 15.4% in 2014.
Walmart expects the channel to turn profitable by fiscal 2018. Amazon (AMZN), its chief rival in the space, has yet to turn in a meaningful profit. Getting e-commerce to turn in a profit could be an industry disruptor.
Store comp trends
Walmart is projecting positive store comps in the range of 1.0%–2.0% in the US in 1Q16. These may likely come to pass, due to the impact of higher wages and higher job additions in the economy. The unemployment rate fell to 5.5% in February 2015, the lowest since May 2008.
The Federal Reserve expects the unemployment rate to fall further to 5.2%–5.3% during 2015. This trend would benefit Walmart and other consumer sector firms (XLP) (XRT) such as Costco (COST), Whole Foods Market (WFM), and Target (TGT).