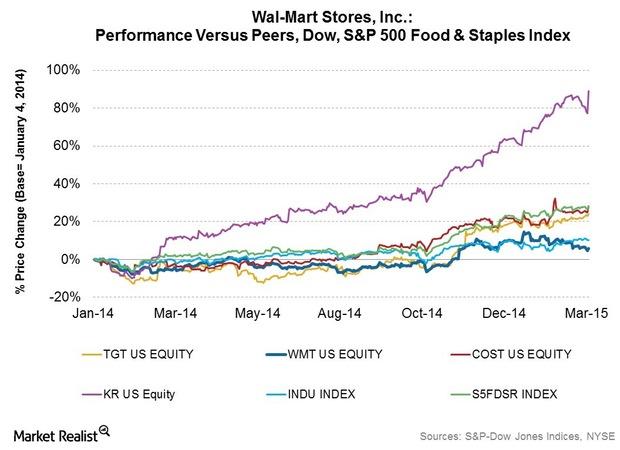 Walmart Continues Paying Higher Dividends To Shareholders
By Phalguni Soni

Mar. 17 2015, Updated 6:05 p.m. ET
Walmart's returns
In fiscal 2015, adjusted net income for Walmart (WMT) came in at $16.8 billion, up 1.5% from the previous year. Earnings for 4Q15 came ahead of consensus Wall Street analyst estimates. Adjusted diluted EPS (or earnings per share) came in at $1.61, beating consensus estimates of $1.54 by 4.2%. The company reported EPS of $1.60 in 4Q14, and full year 2015 adjusted EPS came in at $5.07, down 1.2% from the $5.11 reported in fiscal 2014.
Walmart's results appear tame when compared to its peers Costco (COST) and Kroger (KR). Net income rose 13.8% to $1.7 billion for Kroger (KR) in fiscal 2015. With its fiscal year ending in August, Costco reported a whopping 29% increase in earnings to $598 million in 2Q15.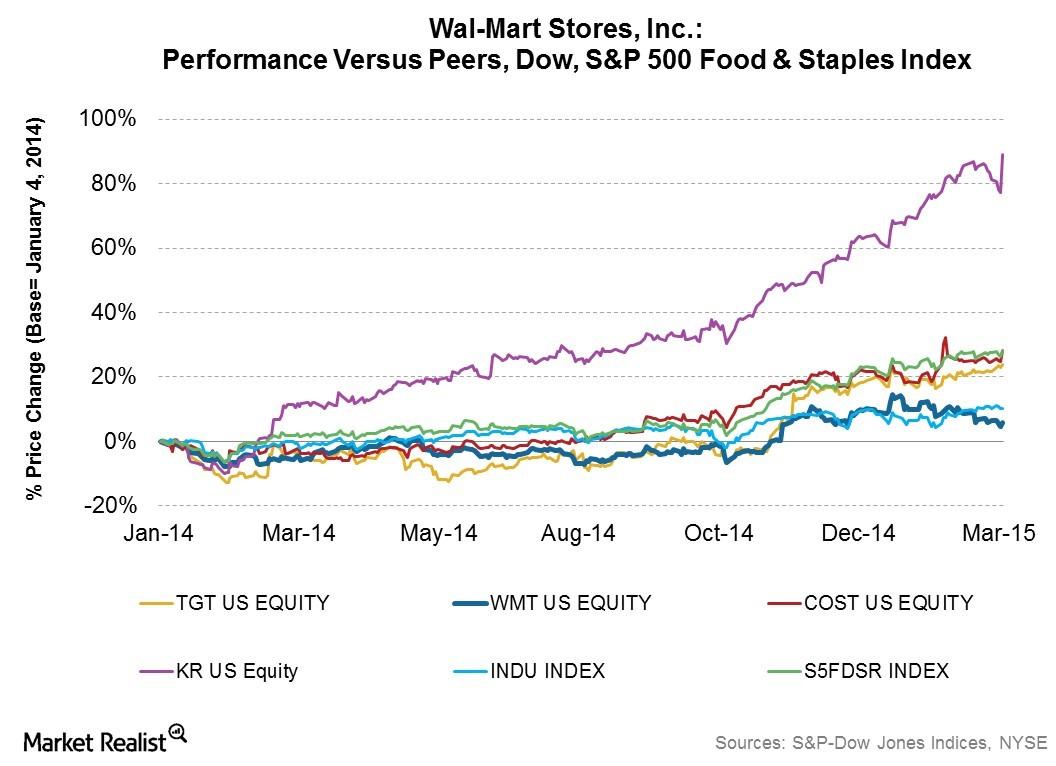 Article continues below advertisement
Shareholder returns
During the year, Walmart (WMT) returned $7.2 billion to shareholders via dividends and share repurchases. The company repurchased $6.7 billion in shares in fiscal 2014 and $1.0 billion in 2015.
Dividend aristocrat
Walmart paid out ~38.6% of its earnings as dividends. Its annual dividend increased to $1.92 per share in fiscal 2015, an increase of 2.1% over the previous year. This was the company's 42nd consecutive year of dividend increases. The company is also expected to raise dividends by 2.1% to $1.96 in fiscal 2016.
Walmart (WMT) is a dividend aristocrat, a select group of S&P 500 Index (SPY) companies with a history of raising dividends for at least 25 years. Walmart's dividend payout ratio is lower than the other mass merchandiser dividend aristocrat, Target (TGT), which had a payout ratio at 49.2% in fiscal 2015. Target and Walmart together make up 2.3% of the portfolio holdings of the SPDR S&P Dividend ETF (SDY) as of February 25, 2015.