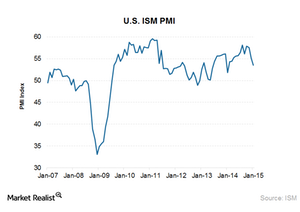 Vital manufacturing indices to track if you're a gold investor
By Anuradha Garg

Mar. 2 2015, Published 8:15 p.m. ET
Key indicators
It's important to track the US purchasing managers' index, or PMI, and to keep an eye on the manufacturing indices of other economies—particularly the ones that impact the US dollar most. The difference between the two sets of information points to the strength of the dollar. The strength of the dollar, in turn, gives you a cue as to the direction of gold prices and gold-backed ETFs such as the SPDR Gold Trust (GLD).
Article continues below advertisement
Gold stocks, including Goldcorp (GG), Barrick Gold (ABX), and Newmont Mining (NEM) are also influenced by the strength of the US currency. The same is true of ETFs that invest in these stocks, such as the VanEck Vectors Gold Miners ETF (GDX). GG, ABX, and NEM form 10.2%, 8.6%, and 7.6% of GDX's holdings, respectively.
US PMI slowing
The Institute for Supply Management's, or ISM, PMI gauges the factory sector in the United States. The PMI is based on a monthly survey of purchasing managers in the private sector. A number below 50 indicates contraction, a number above 50 indicates expansion, and 50 indicates no change.
The United States January PMI was 53.5, a 1.6% decrease from December's seasonally adjusted reading of 55.1. Comments from the panel indicate that most industries, but not all, are experiencing strong demand as 2015 kicks off. And although the US PMI is slowing, it's still better than most developed countries in that it's still in expansion mode.
Rest of the world
The Eurozone reported a manufacturing PMI of 51 in January, which is better than December's 50.6. The start of 2015 saw modest growth acceleration in the Eurozone's manufacturing sector.
Yet manufacturing downturns in France, Italy, Austria, and Greece continued at the start of the year. The rates of contraction in France and Italy eased to near-stabilisation, but Austria and Greece registered steepening downturns.
According to Chris Williamson, chief economist at Markit, "Eurozone manufacturing showed signs of pulling out of the doldrums at the start of the year, but the rate of expansion remained disappointingly meagre, vindicating the ECB's decision to take drastic action to revive the economy."
The Markit/HSBC China manufacturing PMI contracted for the second month in January, coming in at 49.7 and establishing a six-month-average trough of 50. This highlights the downward pressure on China's growth in the manufacturing sector.
Strong US data vis-à-vis other data for other economies usually leads to a stronger US dollar, which is negative for gold.