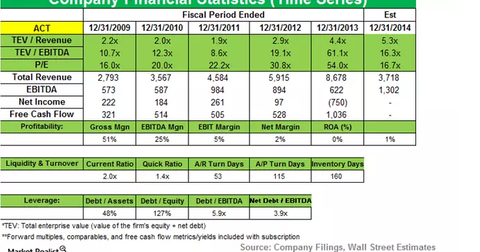 Viking Global Increased Its Position in Actavis Plc
By Adam Rogers

Updated
Viking Global and Actavis Plc
Viking Global increased its position in Actavis Plc (ACT) by over $565 million in the stock. It represented 5.42% of the total portfolio in 4Q14—up from 2.47% in the third quarter.
Article continues below advertisement
About Actavis 
Actavis is one of the leading integrated global specialty pharmaceutical companies. It develops, manufactures, markets, sells, and distributes generic, branded generic, brand name, biosimilar, and OTC (over-the-counter) pharmaceutical products.
Actavis has global headquarters in Dublin. In the US, it has administrative headquarters in Parsippany, New Jersey. The company has operations in more than 60 countries. However, the US is its largest commercial market. The US represented more than half of the company's total net revenue in 2013.
Actavis develops biosimilar products within the Actavis Specialty Brands segment. It also distributes generic and select brand pharmaceutical products. The products are manufactured by third parties, through the Anda Distribution segment.
Actavis has more than 35 manufacturing and distribution facilities around the world. Annually, it has a capacity of ~40 billion units. Actavis Global Operations includes Anda, Inc. Anda is the fourth largest generic pharmaceutical product distributor in the US.
Actavis to acquire Allergan
In November 2014, Actavis announced that it would acquire Allergan (AGN) to become one of the biggest pharmaceutical companies in the world. The combined entity is expected to have an annual revenue of $23 billion. Actavis' management also stated that it will generate long-term, double-digit growth.
The acquisition is valued at $66 billion—or $219 per share in cash and Actavis shares. Allergan is one of the most dynamic and fastest-growing pharmaceutical companies globally.
Article continues below advertisement
ACT raises $21 billion through bonds
In March 2015, Actavis sold bonds worth $21 billion. The proceeds will help pay for the $66 billion acquisition of Allergan. According to analysts, Actavis received orders for ~$90 billion from investors for the bond sale. This reflected strong demand from investors.
4Q14 results beat estimates
In February 2015, Actavis announced its 4Q14 results. It reported revenue of $4.06 billion. This beat analysts' estimates of $3.88 billion. However, the firm reported a net loss of $732.9 million, or $2.76 per share. For full-year 2014, Actavis reported revenue of $13.06 billion. It reported net loss of $1.63 billion, or $7.42 per share.
Compared to the S&P Index, Actavis' stock price went up by almost 11%. The index went up by 2% since the beginning of the year. In addition to this, the firm's stock price increased by over 50% in the last 12 months. CVS Health Corporation's (CVS) stock price increased by 43% in the same period.
You can gain exposure to Actavis by investing in the iShares Russell 1000 Growth ETF (IWF). Actavis accounts for 0.67% of IWF. IWF tracks the performance of 35 companies in the oil and gas sector. CVS has a 0.63% exposure to the SPDR S&P 500 ETF (SPY).
In the next part of this series, we'll discuss Viking Global's position in Dollar Tree.