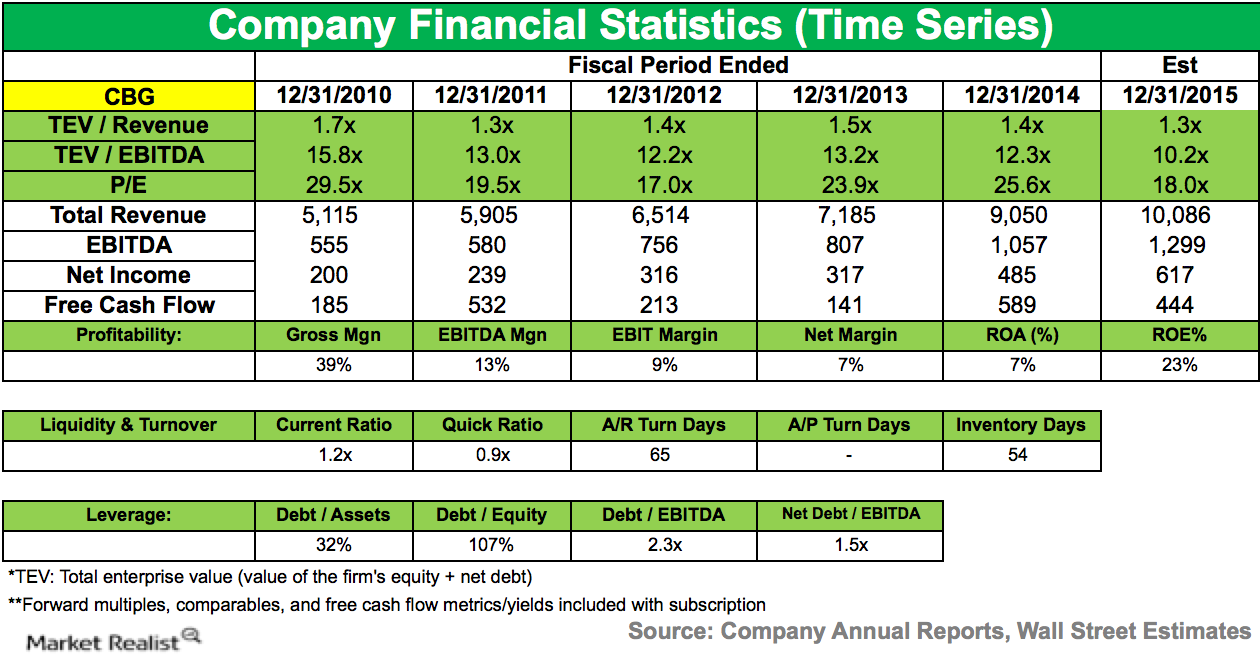 ValueAct Capital Lowers Its Stake in CBRE Group
By Diana Key

Nov. 20 2020, Updated 11:59 a.m. ET
ValueAct Capital and CBRE Group
During 4Q14, ValueAct Capital decreased its position in CBRE Group (CBG). The fund holds 31,322,230 shares of CBRE Group, which account for 6.72% of the fund's total 4Q14 portfolio. In 3Q14, ValueAct held 32,165,849 shares of CBG representing 6.41% of the 3Q14 portfolio.
Article continues below advertisement
About CBRE Group
CBRE Group is a commercial real estate services and investment firm. It has leading full-service operations in major metropolitan areas throughout the world. The company works in the following areas:
commercial property and corporate facilities management
tenant/occupier and property/agency leasing
capital markets solutions such as property sales, commercial mortgage origination and servicing, and debt/structured finance
real estate investment management
valuation
development services and proprietary research
Recently, the company has seen a shift in its revenue mix, with more revenue coming from contractual services. Contractual revenue represented 46% of the total revenue in 2014.
CBRE Group operates in five segments:
Americas
Europe, Middle East and Africa (or EMEA)
Asia Pacific
Global Investment Management
Development Services
EMEA segment's contribution has improved from 15.8% of total revenue in 2012 to 25.9% of 2014 revenue. Americas is the company's largest segment, but its contribution to total revenue has deceased from 63% in 2012 to 57.5% of total revenue in 2014. During the fourth quarter, Standard & Poor's raised its CBRE Group rating to investment grade.
Article continues below advertisement
CBRE Group acquires UCR
On January 27, CBRE completed the acquisition of United Commercial Realty (UCR), a Texas-based commercial real estate firm that specializes in retail services. UCR will enable CBRE to "expand the range of services it can provide to retail clients."
Strong 4Q14 results
CBRE Group reported 4Q14 revenue of $2.8 billion, an increase of 25% on a year-over-year (or YoY) basis. The increase was due to significant revenue growth in all three global regions.
The Americas segment's revenue grew 19% to $1.62 billion, driven by "higher property sales, leasing, occupier outsourcing and commercial mortgage services activities."
The EMEA segment's revenue grew 71% to $70.2 million, driven by "higher property sales, leasing and appraisal activities as well as strong organic growth in occupier outsourcing. The company achieved significant improvement in several countries, including Germany, Ireland, the Netherlands, Spain and the United Kingdom."
The company's Asia Pacific segment's revenue was up 8% to $277.2 million, driven by operations in Australia, India, and Japan.
Adjusted diluted earnings per share (or EPS) were $0.68 compared to $0.67 in 4Q13. Generally accepted accounting principles (or GAAP) diluted EPS was up 79% to $0.61.
For the full-year 2014, revenue was $9 billion, up 26%. GAAP net income was $484.5 million or $1.45 per diluted share compared to $316.5 million or $0.95 per diluted share in 2013.
CBRE Group expects 2015 to be another year of strong growth
The company expects EPS to be in the range of $1.90 to $1.95 with a growth rate of 15% at the midpoint of this range.
You can gain exposure to CBRE Group by investing in the iShares Dow Jones US Real Estate ETF (IYR). CBRE Group accounts for 1.155% of IYR. IYR also holds positions in CBRE Group's peers such as Jones Lang LaSalle (JLL), Forest City Enterprises (FCE.A) (FCE.B), and Strategic Hotels and Resorts (BEE). JLL, FCE.A, and BEE account for 0.8558%, 0.5%, and 0.4035% of IYR, respectively.