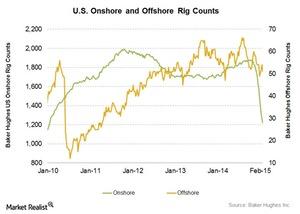 US onshore rig count lowest since January 2010
Land-based rig count is down
During the week ending February 27, 2015, the US land-based, or onshore, rig count fell by 40 compared to the previous week's count. Last week there were 1,216 land-based rigs, including eight inland water rigs. The inland water rig count increased by two from the previous week. This takes the US onshore rig count to the lowest it's been since January 2010.
Last week was the 14th straight week that the onshore rig count declined. North Dakota alone lost 11 rigs. The onshore rig count reached 1,876 in the week ending November 21, 2014. That was the highest it had been since July 2012. A total of 660 onshore rigs have gone offline since November 21, representing a decline of ~35%.
Article continues below advertisement
The onshore US rig count started to look weak after hitting its highest levels since August 2012. The count reached the same landmark three times in three months. But the onshore rig count had been on an uptick since the beginning of 2014. Then, falling crude oil prices started to affect that trend. In response, the onshore rig count seems to have reversed from its uptrend.
In the last year, the land-based US rig count has fallen by 498. In contrast, the number of offshore rigs decreased by four. The number of land-based rigs declined most in Texas, where 274 rigs shut down. North Dakota lost 60 rigs last year.
Why did the onshore rig count fall?
Falling crude oil prices have affected US onshore rigs the most. Some of the unconventional resource shales have higher exploration and production costs because of their geology. Production techniques such as hydraulic fracturing are also more expensive. Upstream companies operating at these marginal economic plays shut down or suspend production if they are unable to produce at a break-even cost.
In October, Tudor, Pickering, Holt & Co., an independent research firm that tracks the US energy sector, estimated that 160 horizontal and 30 vertical rigs were at risk of shutting down. West Texas Intermediate, or WTI, crude oil prices have decreased ~38% since then.
Article continues below advertisement
Texas expected to lose more rigs
Economist Karr Ingham of Ingham Economic Reporting, an economic analysis and research firm, expects that the majority of active Texas rigs will be shut down if the price of crude oil stays low and demand weakens.
Most prolific states
Despite the recent decrease, Texas still has the most land-based rigs in the United States. It has 569, or 47%, of the total US land-based rigs. Oklahoma follows Texas with 146 land-based rigs. North Dakota has 108 land-based rigs.
Some of the largest oilfield service companies are based in Texas including Baker Hughes (BHI), Halliburton (HAL), Cameron International (CAM), and Weatherford International (WFT). Combined, these companies form 26.0% of the VanEck Vectors Oil Services ETF (OIH).