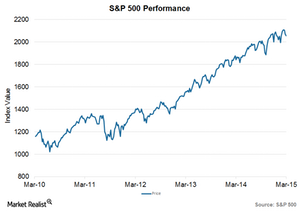 US Equities Continue Their Upward Trend in 2015
By Robert Karr

Updated
Outperforming US Equities
Stock market performance is one of the key drivers of asset managers' revenue, which flows down to earnings and share prices. Some companies that will benefit from the rise in the US equity market are BlackRock (BLK), State Street (STT), Franklin Resources (BEN), and Vanguard.
US equities (SPY) have performed well over the past few years and have continued their run in 2015. Equities have outperformed major economies like the European Union (EFA) and Japan (EWJ), backed by a strong dollar, job growth, low interest rates, healthy corporate balance sheets, the expectation of an interest rate increase in 2015, and a sharp drop in oil prices. The S&P 500 index grew by 13% in 2014 and by approximately 1% in the current year so far.
Corporates can incur capital expenditure in a low interest rate environment. Lower financing costs resulted in an increase in average net profit margins, to 9.2% in 2014 compared to 6.45% in 2009.
Article continues below advertisement
Impact for asset managers
US growth is on the upswing. The economy expanded last year at its fastest pace since 2006. A higher growth rate along with improved employment rates have increased the prospects of US rate hikes. The lower trade deficit, higher growth, and expectations of higher interest rates have led to a strong dollar in 2014. Asset managers with significant deployments in US equities and plans to increase their market offerings will benefit from the positive run in equities.
Rate hikes are expected to be slower and to settle at lower levels than what we'd witnessed over the past few decades. The lower hikes should help corporates with lower financing costs and a push for expansion.