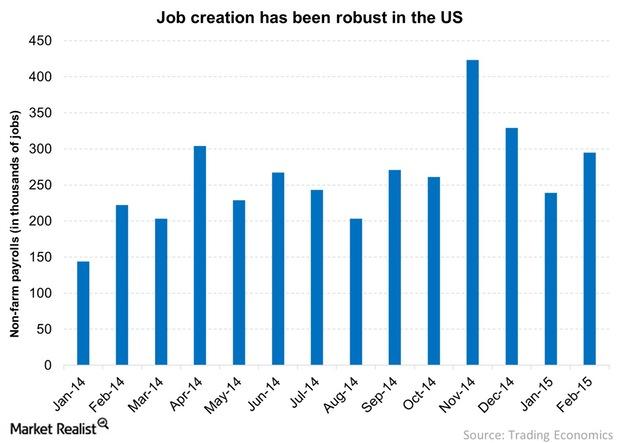 Why the US Economy Is Strong Relative to Other Economies
By Russ Koesterich, CFA

Mar. 25 2015, Updated 7:06 p.m. ET
Uneven Global Growth, Despite U.S. Resilience.
We have been seeing countervailing forces are pulling stocks in opposite directions. Next to more evidence that the U.S. economy is improving, we are seeing several signs of slowing growth outside the United States: weak import/export data from China, multiple downgrades of global oil demand accompanied by a further plunge in prices, more stringent collateral requirements in China and renewed angst over European politics.
Article continues below advertisement
Market Realist – The pace of job creation suggests that the US economy is strong.
The United States' economic strength has been one of the bright spots in a world that's slowing down. The US has created over 2 million jobs in the last seven months. This economic strength has propped up the US stock markets (SPY)(IVV). However, we can't say the same about other major economies.
Europe (EZU) has entered into deflation territory, and growth has been consistently soft since the financial crisis. There are some green shoots appearing, though. Still, there's a long way to go before we can conclusively say that the bruised economy is bottoming out.
Market Realist – Chinese import and export figures are falling.
Another problem area is China (FXI), which has been showing signs of running out of steam for months. Global investors closely watch the Chinese import-export figure in order to gauge global demand. The Chinese import figure is an indicator of demand in the world's second-largest economy. A fall in Chinese imports will spell trouble for its major import partners, including the US, Japan (EWJ), South Korea (EWY), and the Eurozone.
The Chinese export figure is an indicator of demand in China's major export partners, including the countries we mentioned above. Also, China is an export-oriented economy, so the dip in its export figures could hurt its economic growth. 
The second graph shows that both export and import figures have fallen in the last two months, and they currently stand at $169 billion and $109 billion. This could affect growth for China and its trade partners.