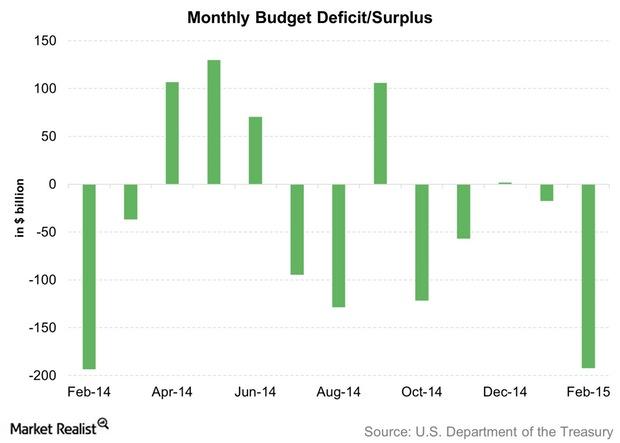 US Budget Deficit Increases in February 2015
By David Ashworth

Mar. 19 2015, Updated 6:06 p.m. ET
Deficit reported
The US budget was in a deficit for February 2015. It was in a deficit for the second month in a row. The US government's budget was in a deficit of $192.3 billion for February 2015. It posted a deficit of $17.5 billion in the previous month.
Last year, the budget had been in deficit of $193.5 billion. These surplus or deficit figures are released by the U.S. Department of the Treasury in the MTS (Monthly Treasury Statement). It provides an overview of the federal government and off-budget federal entities' financial activities.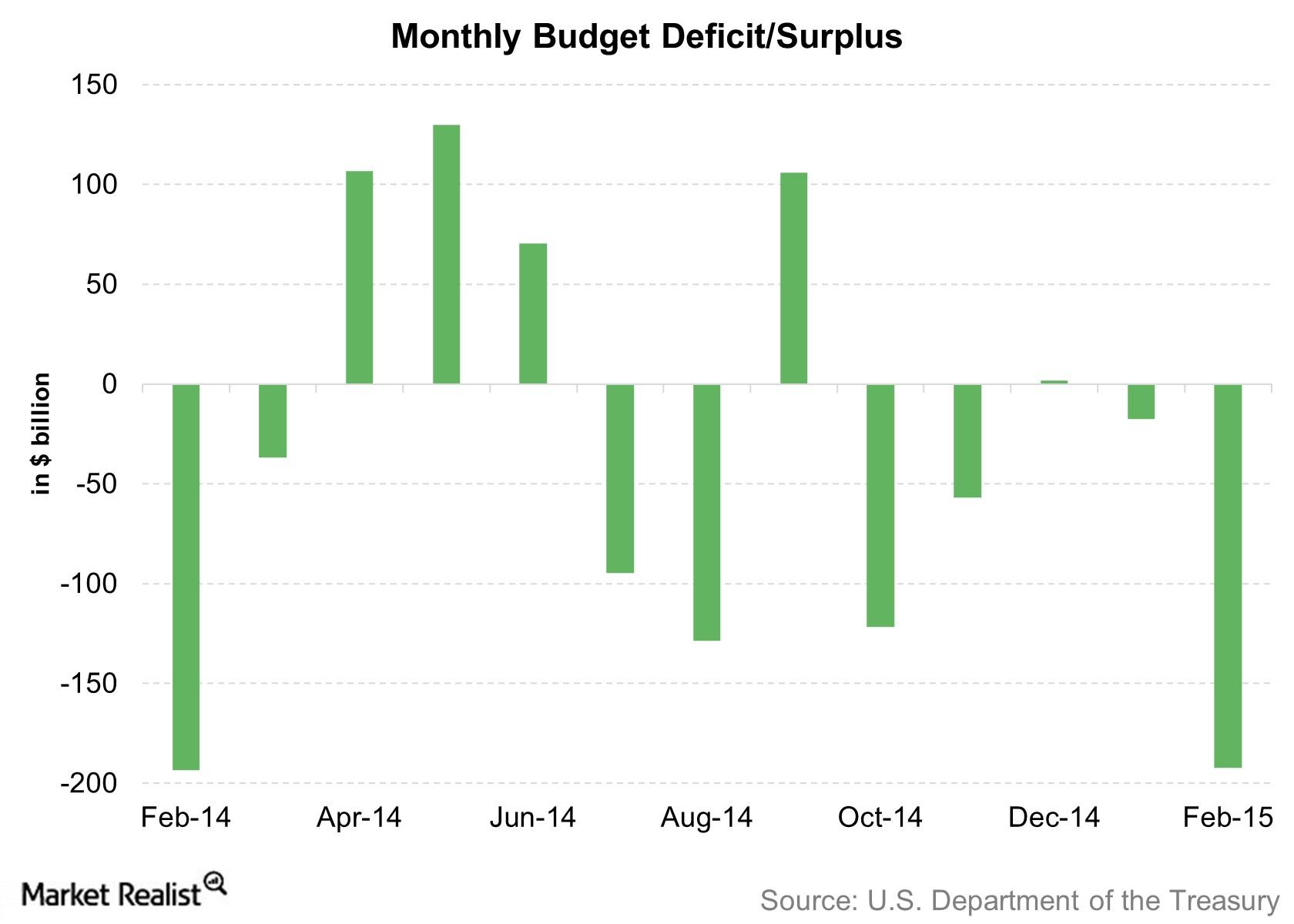 The MTS provides information on the government's receipts and outlays, surplus or deficit, and means of financing. A deficit occurs when the government's outlays are more than its receipts.
Article continues below advertisement
Why is it important?
Knowing the budget balance is important because a large budget deficit increases the national debt. As a result, a higher percentage of the country's income will need to be used for interest payments on the debt.
The budget deficit for the fiscal year ending September 2014 was $483 billion or 2.8% of the GDP (gross domestic product). A fiscal year for the US Treasury begins in October and runs through September the next year. In 2009, the budget deficit increased to nearly 10% of the GDP.
For fiscal year 2015, the Congressional Budget Office expects the deficit to reduce to 2.7% of the GDP, or $486 billion, according to a release in March 2015. This projected number is higher than January 2015's estimate of $468 billion. So far in this fiscal year, the budget balance is in a deficit of $386.5 billion.
Details
The highest budget receipts for the US in February 2015 came from individual income taxes at $40.6 billion. The highest budget outlays were from the Department of Health and Human Services at $78.9 billion. It was closely followed by the Social Security Administration at $78 billion.
Unlike retail sales, there isn't a direct impact of a budget deficit on companies or ETFs. However, an increase in the budget deficit over a period of time signals worsening government finances. This isn't good for the economy.
Over the long run, worsening government finances may end up hurting broad-based equity ETFs like the SPDR S&P 500 ETF (SPY), the SPDR Dow Jones Industrial Average ETF (DIA), and the iShares Core S&P 500 (IVV).
Fixed income ETFs—like the iShares Barclays 20+ Year Treasury Bond Fund (TLT) and the iShares Barclays 7-10 Year Treasury Bond Fund (IEF)—also track this report. Visa (V), Goldman Sachs (GS), and 3M (MMM) are DIA's top three holdings. They account for ~22% of the ETF.
In the next part of this series, we'll look at what wholesale and business inventories are telling you about the economic output in the US.