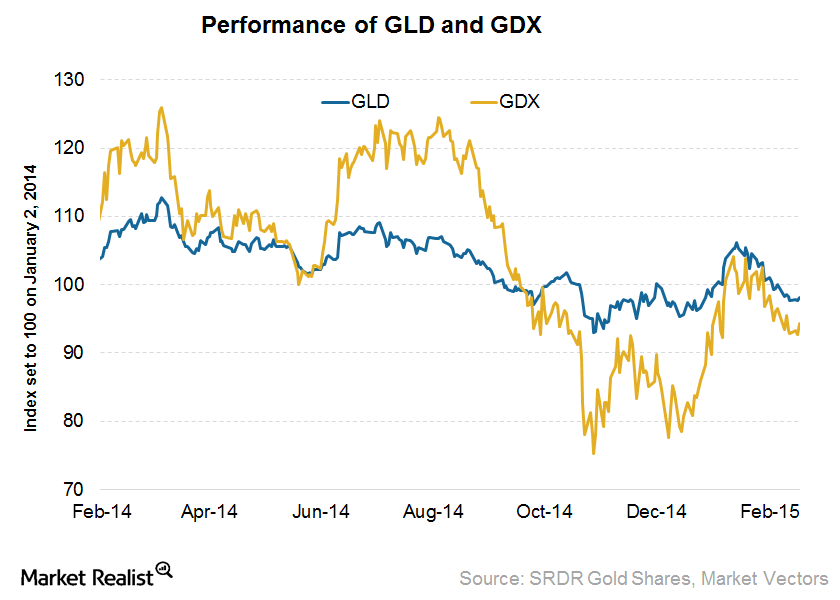 The universe of variables that can influence gold prices
By Anuradha Garg

Mar. 2 2015, Updated 3:14 p.m. ET
Gold performance
Gold prices reached a high of $1,295.80 an ounce on January 22, 2015, on a move by the Swiss National Bank and uncertainty in the Eurozone area. Prices have retreated since, to trade at $1,192.5 an ounce on February 24, 2015, a loss of 8% in about a month.
Article continues below advertisement
Series preview
In this series, we'll explore factors responsible for the recent volatility seen in gold prices. We'll also look at some of the indicators investors can track to get a sense of where the price of gold is headed.
Investors usually view gold as an inflation hedge. As a result, gold prices are influenced by the following related factors:
the macroeconomic outlook for the United States and other world economies
the performance of alternative assets such as equities, bonds, and the US dollar
interest rates
inflation
We'll discuss how US data impact the US dollar and gold prices. We'll also look at the influence of international data. We'll discuss factors such as the US labor market, inflation, and inflation expectations—the most important considerations that the Fed reviews before deciding on the quantum and timing of rate hikes.
But before we get to these variables, we'll first examine how economic uncertainty can influence gold prices and how the latest in a series of such uncertainties, the Greek bailout extension, is doing just that.
Get a full view      
Most of these indicators are published monthly, while others are published weekly and quarterly. And though strongly correlated, these indicators are subject to divergences and short-term statistical noise. So, the best approach to getting a full picture is to look at these indicators as a whole, rather than individually.
These indicators should point you in the same direction as gold prices and gold-backed ETFs such as the SPDR Gold Trust (GLD). They'll also suggest movements in the share prices of companies such as Goldcorp (GG), Anglogold Ashanti (AU), Newmont Mining Corporation (NEM), Kinross Gold Corporation (KGC), and ETFs such as the VanEck Vectors Gold Miners ETF (GDX). Combined, these companies, make up 26.3% of GDX.