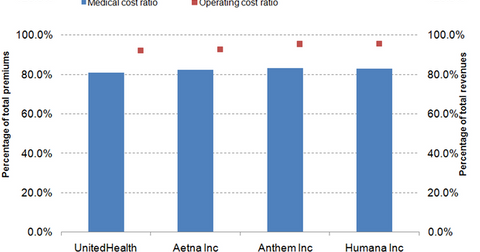 UnitedHealth's operating expenses compared to its peers
By Margaret Patrick

Mar. 18 2015, Updated 9:04 p.m. ET
Operating expenses
Article continues below advertisement
Medical cost ratio
Compared to companies in the health insurance industry—like Humana (HUM), Aetna (AET), and Anthem (ANTM)—UnitedHealth Group (UNH) has a lower medical cost ratio. The medical cost ratio, or the medical loss ratio, measures a health insurance company's financial health. It's the ratio of the company's medical costs to its premium revenue.
Lower medical care ratios indicate that a health insurer has efficient operations. To learn more about the medical cost ratio, read Why the Affordable Care Act hurts the managed care industry.
Effective in 2014, the Affordable Care Act, or ACA, imposed an annual "health insurance fee" on private health insurance companies (XLV). The fees levied on a company are proportional to the share of the company's premiums among the total premiums the health insurance industry earns. However, the fee earned from self-insured enrollments are exempt from this fee. Health insurance companies pass the fee to their fully-insured customers in the form of increased premiums.
Article continues below advertisement
UnitedHealth Group's low medical cost ratio is mainly attributed to the company's favorable enrollment mix. It's important to note that 57.3% of the total enrollments belong to the commercial category. This involves either the employer-sponsored or individual insurance. Of this, about 74% are self-insured.
Also, MA (Medicare Advantage) and managed Medicaid programs only account for 23.5% of the total enrollments. In these programs, CMS determines the premium levels. As a result, they can't absorb the health insurance fee. The increase in premiums resulting from the health insurance fee, combined with the efficient cost structure, led to the company's low medical cost ratio.
Operating cost ratio
UnitedHealth Group's operating cost ratio is lower than its peers. This is mainly due to the company's diversified business model. Although the health insurance industry is a low margin business, UnitedHealth Group also has a presence in the high margin financial services, consulting and health, and well-being segments. Effective utilization management, combined with revenue earned from these businesses, led to UnitedHealth Group's greater operating efficiency.