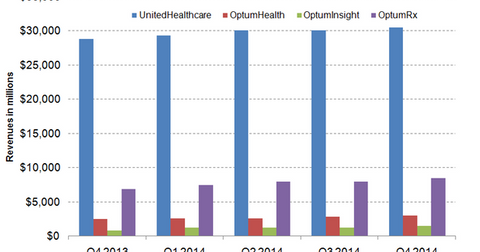 UnitedHealth's diversification strategy improved its performance
By Margaret Patrick

Mar. 15 2015, Updated 10:05 a.m. ET
Diversification strategy
Health insurance companies (XLV)—like UnitedHealth Group (UNH), Aetna (AET), Cigna (CI), and Anthem (ANTM)—use diversification strategies across markets, products, and services to maintain their operating margins.
UnitedHealth Group's (UNH) revenue is divided across its segments—UnitedHealthcare, OptumHealth, OptumInsight, and OptumRx. The segments mainly provide health insurance, health and well-being, health technology, and pharmacy services, respectively.
Article continues below advertisement
Optum offerings
The above graph shows UnitedHealth Group's operating margins across the segments. OptumInsight has the highest margin. It's followed by OptumHealth, UnitedHealthcare, and OptumRx, respectively. Growth in revenue management services and services provided to government agencies in setting up health insurance marketplaces increased OptumInsight's revenue by 80.9% from $822 million in 4Q13 to $1.5 billion in 4Q14.
OptumHealth also registered year-over-year, or YoY, revenue growth of 20.3% in 4Q14. The growth was due to organic and inorganic growth. OptumHealth acquired  Massachusetts-based Alere Health—a leading provider of preventive care and health management services. The segment's organic growth is attributed to a rise in partnerships with health providers in the US. It's also due to an increase in the segment's subacute or intensive nursing service suite.
Article continues below advertisement
OptumRx is responsible for managing drug-related benefits in health plans. It experienced revenue growth of 23.9% YoY in 4Q14. The growth was mainly from an increase in the UnitedHealth Group's enrollments in senior and public markets and external members using OptumRx services. Increased efficiency, drug procurement, and pharmacy services' home delivery helped the segment register improved margins in 2014.
UnitedHealthcare
UnitedHealthcare provides health insurance services to Medicare and Medicaid beneficiaries. It also provides services to employer-sponsored and individual health insurance plans. The segment's revenue rose YoY due to the increase in senior and Medicare enrollments and the rise in premiums to absorb increasing taxes and input costs. However, increasing costs, especially on specialty medicines to treat Hepatitis C and the reduction in MA (Medicare Advantage) reimbursements, reduced UnitedHealthcare's margins.