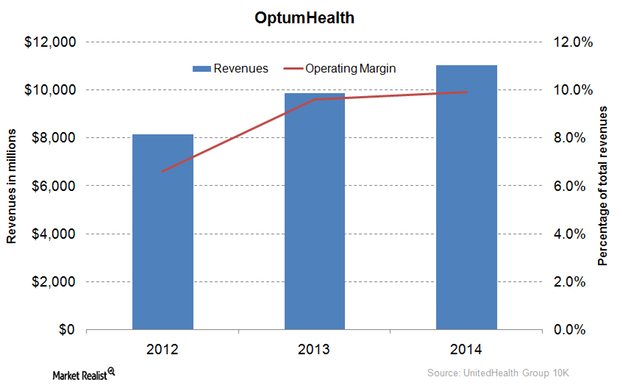 UnitedHealth Group's OptumHealth – what does it provide?
By Margaret Patrick

Mar. 19 2015, Updated 12:04 p.m. ET
OptumHealth
The private health insurance industry (XLV) adopted an integrated approach for ensuring the health and well-being of the enrollees.
UnitedHealth Group's OptumHealth segment is responsible for implementing measures to improve the quality of service and patient satisfaction. It also reduces the costs involved.
The above graph shows that OptumHealth registered a healthy rise in revenue and operating margins from 2012 to 2014. The segment offers products in exchange for fixed premiums from members or for administrative fees. OptumHealth sells its products through a direct sales force and collaborations mainly with employers, other insurance carriers, and government entities.
Article continues below advertisement
Collaborative care
Collaborative care involves OptumHealth working with other entities to improve the quality of medical care and reduce the costs. In the local care delivery offering, OptumHealth collaborates with physicians and clinics. It uses technology, analytics, and risk management practices to aggregate data about patients. This is referred to as "population management practice."
Population management is also extended to patients suffering from complex medical conditions. It builds integrated solutions for payers, governmental agencies, and healthcare providers. It focuses on providing optimal care to this high-cost segment in the most appropriate manner.
OptumHealth's mobile care delivery offering involves services like occupational health, medical and dental readiness services, treatments, and immunization programs. The services are delivered to the patients in the clinics, through mobile vans, or at the employer's office.
Consumer Solutions Group
OptumHealth independently offers population management services to 38 million individuals. This includes people suffering from cancer, neonatal and maternity patients, and people requiring long-term care.
Compared to other companies in the health insurance industry—like Aetna (AET), Humana (HUM), Cigna (CI)—UnitedHealth Group's  (UNH) OptumHealth also maintains a larger specialty health provider network. It provides services to 57 million individuals requiring services like mental health, transplants, and kidney diseases.
Also, OptumHealth provides distribution support—like call center support, trained nurses, and data analysis—to other health insurance carriers and employers. The segment is also responsible for providing financial services to its consumers. It provides a HSA (health savings account) through its wholly owned subsidiary, OptumBank.