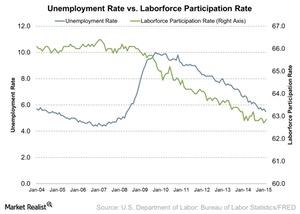 Unemployment Rate and Participation Rate Affect Restaurant Stocks
By Adam Jones

Updated
US unemployment rate
The unemployment rate accounts for people who aren't employed, but are actively looking and willing to work. It doesn't account for people who left the labor force. So, we use the participation rate to get a complete picture. The labor force participation rate includes civilians over 16 years of age who are either actively looking for job or are employed. With the economy improving, the unemployment rate decreased since 2010.
Article continues below advertisement
Interpretation
In February, the unemployment rate went down to 5.5%. It declined from 5.7% in January. There's always going to be some unemployment in the economy. However, it's hard to determine the appropriate unemployment rate. In the most recent summary of economic projections, FOMC (Federal Open Market Committee) participants expect the long-run unemployment rate to be 5.2%–5.5%.
A falling unemployment rate isn't enough to make investors cheer. When we look at the labor force participation rate in the above chart, it has been falling for over a decade. According to a report titled "The slow recovery of the labor market" published by the Congressional Budget Office, the participation is falling because the Baby Boomer generation is retiring. Also, there's a lower participation of men from 25 to 54 years old. There's a lower participation of men and women from 16 to 25 years old.
Takeaways for the restaurant industry
It's important that restaurant chains reach a wide demographic—like McDonald's (MCD), Yum! Brands (YUM), Darden Restaurants (DRI), and Brinker International (EAT). It's also important for the Consumer Discretionary Select Sector SPDR (XLY). XLY holds about 4% of McDonald's.
It's important for a restaurant to price the menu correctly. This well help the restaurant appeal to the "out of the labor force" population. Casual dining restaurants have a higher average check compared to fast food and fast casual restaurants. This could explain why casual dining restaurants aren't performing well.
To learn more about these concepts, read An in-depth overview of the US restaurant industry. So, what's happening with the population's income and hourly wages? We'll discuss this in the next part of this series.