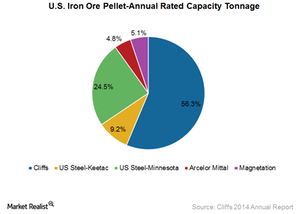 U.S. Steel Idles Iron Ore Plant: What's the Impact on Cliffs?
By Anuradha Garg

Updated
U.S. Steel idles Keetac pellet plant
On March 12, 2015, U.S. Steel (X) announced it will temporarily idle its Keetac pellet plant. The plant is an iron ore mining and processing facility in northern Minnesota. The shutdown is effective May 13, 2015.
Idling the plant is the result of elevated inventory levels and the company's effort to match production to weak demand. Keetac's annual rated capacity is 5.4 million tons out of a total capacity of 19.7 million tons for U.S. Steel.
Article continues below advertisement
U.S. Steel commented, "These ongoing operational adjustments are a result of challenging market conditions that reflect the cyclical nature of the industry. Global influences in the market, including a high level of imports, unfairly traded products and reduced steel prices, continue to have an impact."
This is not the first time U.S. Steel has idled a plant and laid off employees. It routinely adjusts production to demand. It has idled some of its plants that were producing oil country tubular goods (or OCTG), which are steel products used by the oil and gas industry. Shutting down plants is a result of OCTG demand that has fallen sharply due to the glut of oil globally and weak prices.
First step in closures to follow?
This reactive step by U.S. Steel demonstrates the weak demand state of the US steelmaking industry. This impacts all the steelmakers, including AK Steel (AKS), Nucor (NUE), and ArcelorMittal (MT). The Keetac closure could be just the first step in a series of closures.
U.S. Steel's closures could be potentially negative for Cliffs Natural Resources (CLF). US steelmakers are Cliffs' major customers. Any weakening of demand that impacts them will ultimately impact Cliffs as well.
Cliffs (CLF), AK Steel (AKS), and U.S. Steel (X) form 9.2% of the SPDR S&P Metals & Mining ETF (XME).
We'll look at the performance of Cliffs Natural Resources' US iron ore division in the next part of this series.