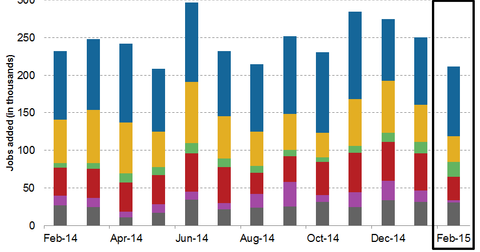 US Economy Is Still Robust, But Growth Is Moderating
By Russ Koesterich, CFA

Mar. 9 2015, Updated 12:06 p.m. ET
Although the U.S. economy is still the most robust major economy in the world and data continue to show decent growth, that growth is moderating. With the Fed insisting its future course is dependent on data confirming a stronger economy, investors still believe the Fed will hold back. However, we think the Fed is closer to evolving its rates policy toward more normal conditions than many in the market appear to believe. We may see a different tone from the Fed in its upcoming meeting in March, leaving the door open for a June rate increase.
Article continues below advertisement
Market Realist – The US economy is still robust, but growth is moderating.
The jobs market still looks strong, but growth is middling. The ADP employment report for February showed that private employers added 212,000 jobs during the month. This can be seen in the previous graph.
The ADP employment report fell short of analysts' expectations. Analysts estimated the addition in jobs by private employers to be close to 220,000. January's payrolls were revised upward to 250,000 from the previously reported 213,000. According to ADP estimates, services added 181,000 jobs in February—compared to 206,000 jobs added the previous month. The manufacturing sector only added 3,000 jobs in February. This was a sharp decline from the 15,000 jobs added in January. In the previous graph, you can see the comparison of job additions by sector for the two months.
Another factor pointing towards middling growth is the Chicago Fed National Activity Index.
The index is a gauge for overall national economic activity and inflationary pressures. An estimate of zero indicates that the national economic expansion is occurring at the historical growth trend. An estimate below zero indicates that growth is below average. An estimate above zero indicates that growth is above average. In January, the value for the index was 0.13. This was a massive decline from the 0.92 seen in November 2014. The previous graph shows the index and its components over the last year.
The US economy (SPY) (IVV)—compared to economies like Japan (EWJ), Europe (EZU), and China (FXI)—looks much more robust. This will likely continue. However, growth will continue to be moderate. It won't resemble the torrid pace seen in the last year.
Continue reading the next part of this series to understand why low yields across the world are affecting the search for income.