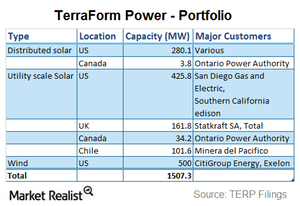 TerraForm Power: Where the Wind Meets the Sun
By Mike Sonnenberg

Mar. 30 2015, Updated 3:05 p.m. ET
TerraForm Power
TerraForm Power (TERP) was the most talked-about yieldco IPO (initial public offering) in 2014. The company raised $502 million, or $25 a share, in its IPO on July 17, 2014. Another $65 million came from private placements.
Though the company started operations as a pure-play solar yieldco, the company acquired First Wind's wind power assets in January 2015, making it a solar-wind yieldco like NextEra Energy Partners (NEP).
SunEdison (SUNE) is TERP's sponsor. Energy stocks such as SUNE make up 4.28% of the iShares Russell 1000 Growth ETF (IWF).
Article continues below advertisement
Portfolio
TerraForm's portfolio is comprised of distributed solar (photovoltaics installed on residential and commercial rooftops), utility-scale solar power, and wind energy:
distributed solar capacity – 283.9 MW or 19%
utility scale solar – 848 MW or 56%
wind power – 375 MW or 24.9%
The company's contracts have a remaining weighted average life of 16 years.
Customer profile
San Diego Gas & Electric, part of Sempra Energy (SRE), accounted for 31% of fiscal 2014 revenues, and Chilean company Minera Del Pacifico accounted for 18%. Other major customers include Southern California's Edison (EIX) and Citigroup Energy (C). All customers are investment-grade entities.
Article continues below advertisement
Dividend history
In 4Q14, the company paid 17.17 cents a share in dividends, topping it up to 27 cents in 1Q15.
Bottom line
TerraForm Power offers a good mix of residential solar, utility-scale solar, and wind energy assets. The company's portfolio composition makes it unique among yieldcos.