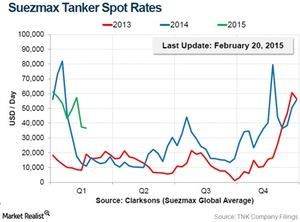 Teekay Tankers's fleet demand and tanker rates
By Katie Dale

Mar. 3 2015, Published 7:50 p.m. ET
Fleet demand
Teekay Tankers (TNK) comments that over at least the next three years, fleet supply is expected to be minimal. This should continue to be a tailwind for the both crude and product Long Range 2 (or LR2) fleets over the next couple of years.
According to Teekay Tankers's analysis, fleet growth across both the Suezmax and the AframaxLR2 segments is still very low and manageable, given the continued demand.
Article continues below advertisement
Tanker rates
Crude tanker rates have remained strong in the first quarter of 2015 due to a combination of increased Russian oil exports, ongoing winter weather delays, and continued strong oil demand due to low oil prices.
In addition, rates for large crude tankers have been supported by the emergence of floating storage, with more than 30 Very Large Crude Carriers (or VLCCs) booked on time-charter contracts with storage options in January 2015.
As these storage options are exercised, this will have a positive impact on the Suezmax sector, as the removal of VLCCs from the trading fleet increases demand for Suezmaxes on certain routes.
Companies like Frontline Ltd. (FRO), Nordic American Tanker Ltd. (NAT), DHT Holdings (DHT), and Teekay Corporation (TK) are part of the iShares S&P 500 Index ETF (IVV).
Record high 4Q14 rates
In the fourth quarter of 2014, LR2 product tanker rates touched their highest levels since 4Q08. LR2 rates have been supported by record high levels of Asian naphtha imports from the West, coupled with an increase in long-haul product exports as new refineries in the Middle East ramp-up production.
The reduction in global oil prices has also been positive for the LR2 trade, as lower naphtha prices in relation to liquefied petroleum gas (or LPG) led some petrochemical plants to process more naphtha instead of LPG.