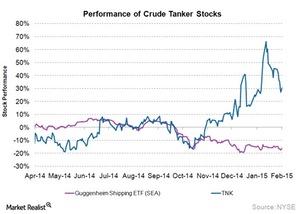 Teekay Tankers overview and 4Q14 earnings highlights
By Katie Dale

Mar. 3 2015, Published 1:52 p.m. ET
4Q14: What's in store
Since Teekay Tankers (TNK) reported its fourth quarter 2014 earnings on February 19, 2015, the company's stock price has recorded a 4.3% decrease to date. Company peers like Frontline Ltd. (FRO), Nordic American Tanker Ltd. (NAT), DHT Holdings (DHT), and Teekay Corporation (TK) recorded a 10%, 1.8%, 6.2%, and 4.7% dip in the same period, respectively.
The PowerShares DB Oil Fund ETF (DBO) recorded 2.6% growth in same period. Supported with record tanker rates and new vessel acquisitions, TNK recorded significant growth in its revenue and cash flow. Meanwhile, the company swung to a net income this quarter from its loss in the same quarter a year ago. We will discuss this in detail throughout this series.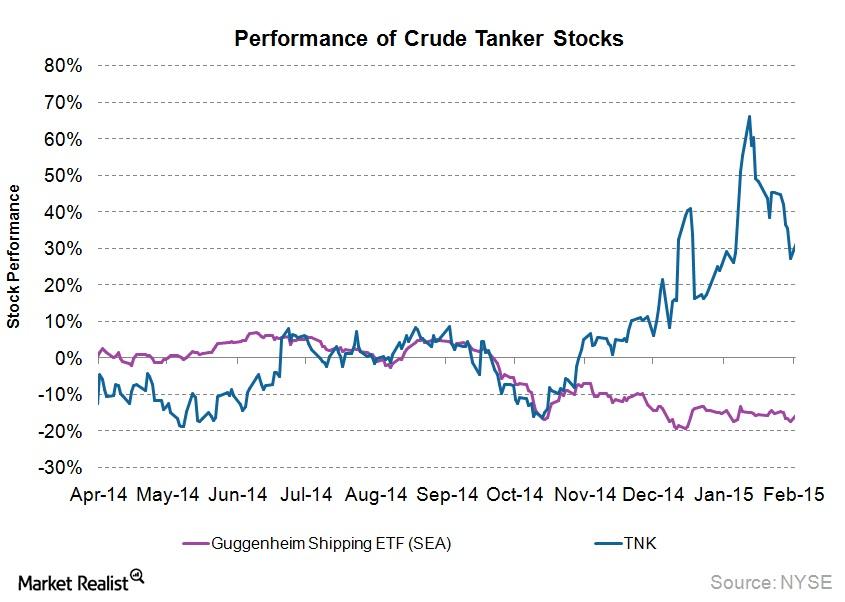 Article continues below advertisement
Company profile
Teekay Tankers is formed by Teekay Corporation (TK) to expand its conventional oil tanker business. In addition, Teekay Tankers owns a minority interest in Tanker Investments Ltd., which currently owns a fleet of 20 modern tankers including six vessels to be acquired in first half of 2015.
The TNK chartering strategy includes vessel employment through a mix of short- or medium-term fixed-rate time charter contracts and spot tanker market trading. TNK has 28 owned vessels and seven chartered-in vessels.
Fleet growth
Teekay Tankers directly owns a fleet of 32 double-hull vessels, including 12 Aframax tankers, ten Suezmax tankers, seven Long Range two-product tankers (or LR2), and three Medium-Range (or MR) product tankers. The fleet includes three LR2 vessels and one Aframax vessel to be acquired in the first quarter of 2015. It has contracted 11 time charter-in conventional tankers.
Additionally, Teekay also owns a Very Large Crude Carrier (or VLCC) tankers, including six vessels to be acquired in the first half of 2015 through a 50% owned joint venture.