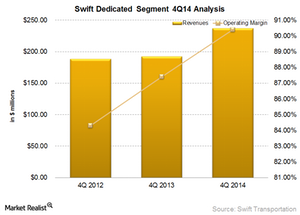 How Did Swift's Dedicated Segment Perform in 4Q14?
By Ally Schmidt

Updated
About the segment
Given the strong demand and the growing dedicated services market, Swift Transportation (SWFT) created a separate Dedicated segment by investing capital and shifting part of its fleet to the segment. To read more about the Dedicated segment, please refer to Swift shifts toward a growing Dedicated segment.
The Dedicated segment comprises 22% of J.B. Hunt's (JBHT) revenue. JBHT forms ~0.98% of the total assets of the First Trust Industrials/Producer Durables AlphaDEX Fund (FXR). Other trucking companies included in this ETF are Old Dominion Freight Line (ODFL) and Landstar (LSTR), with 1.62% and 1.67% holdings, respectively.
Article continues below advertisement
Financial performance of the segment
Swift Transportation's Dedicated segment saw robust growth during 4Q14. The segment's revenues grew by 28.8% year-over-year, driven by the addition of multiple new customer contracts over the past year. The average operational truck count also grew to 4,802 at the end of the fourth quarter.
However, the increase in driver wages, insurance, and claims expense suppressed the operating ratios for the company. The operating ratios increased by 300 bps to reach 90.4% at the end of the fourth quarter. The company saw minimal benefit from fuel costs. However, during fiscal 2014, Swift Transportation absorbed an increase in auto liability claims, primarily in the Dedicated segment, which led to increased insurance and claims expenses.
Focus in 2015
Swift Transportation expects its Dedicated segment to be the growth driver in the coming years, and the company plans to focus on the importance of driver safety. The company's insurance claims will affect the company in the first few quarters of 2016, but they should diminish after that.
Next, we'll look at the performance of Swift's CRS segment.