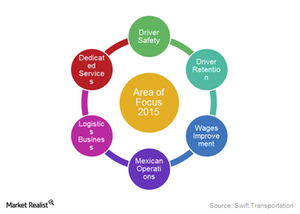 Swift Transportation's Key Areas of Focus
By Ally Schmidt

Updated
Improved driver safety
Swift Transportation (SWFT) witnessed poor driver safety conditions in 2014, which is evident from its increased insurance claims. The company undertook several initiatives to address this issue, including establishing a dialogue about safety between drivers and their managers.
Swift is also installing enhanced safety equipment in all its new trucks. Some of this equipment includes collision avoidance systems, lane departure alerts, and automatic transmissions. The company also expects these measures to help improve the new trucks' fuel efficiency.
Swift Transportation decided to accelerate its trade cycle to about 3.5 years. This is expected to help lower maintenance charges, increase fuel efficiency, and improve driver satisfaction. The company also aims to improve its driver miles by creating new planning teams.
Article continues below advertisement
Growing Mexican operations
Overall, product assembly and manufacturing has grown substantially in Mexico, which helped grow Swift Transportation's northbound freight. This will help improve the company's top line and bottom line. Swift expects its Mexican operations to be a substantial revenue driver.
Growing the logistics business
Swift Transportation's logistics business is also growing at a good pace, with 4Q14 revenues increasing at 20% and the operating income by 40%. Other growth areas include shop services provided to owner-operators and other third parties, equipment leasing activities, and captive insurance premiums for insurance products provided to owner-operators.
Other areas of focus
Swift Transportation is working on improving the efficiency in some of the new dedicated locations by filling in backhauls, or carrying cargo on the equipment's return journey, as well as subsidizing equipment. Swift is also acquiring equipment from two major manufacturers—Kenworth and Freightliner—to streamline its maintenance requirements in shops throughout the US.
Swift Transportation has its work cut out for it during 2015, with other major trucking companies in the US also competing in the trucking space. These competitors include J.B. Hunt (JBHT), Old Dominion Freight (ODFL), and Landstar (LSTR). J.B. Hunt and Landstar form a 10.14% of the assets of the iShares Transportation Average ETF (IYT).