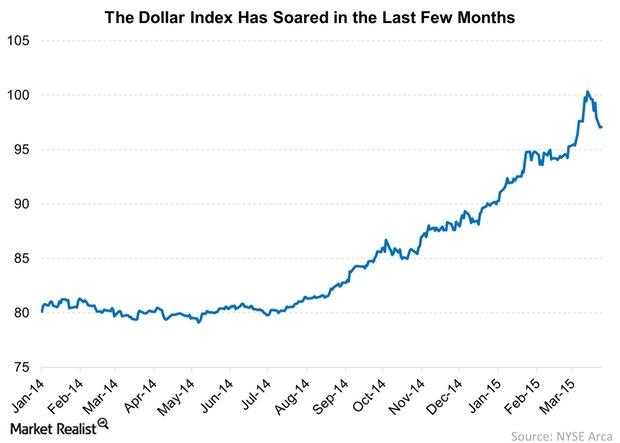 A Strong Dollar Is a Major Headwind for Export-Oriented Stocks
By Russ Koesterich, CFA

Dec. 4 2020, Updated 10:52 a.m. ET
Stronger Dollar Hurts U.S. Exporters
It is no coincidence that the U.S. Dollar Index is at a 12-year high, when U.S. stocks are up by ~2% year-to-date. A cheaper currency is proving a boon for European and Japanese companies, but the stronger dollar is creating a problem for U.S. exporters by making U.S. goods more expensive. This headwind is further exacerbated by the already high valuations of U.S. stocks.
Article continues below advertisement
Market Realist – A stronger dollar is a headwind for export-oriented stocks.
The graph above shows the dollar index since the start of 2014. The dollar index indicates the strength or weakness of the US dollar (UUP) relative to other major currencies.
The index remained stable until July 2014 and has gained a whopping 21.6% since then. This year, the index has already been up by 7.5%. However, the index has dipped to 97.05 after touching 100 ten days back.
The Fed ended its bond buying program in October 2014. Meanwhile, other central banks are still in monetary accommodation mode. This is particularly true in developed markets (EFA)(VEA), including Europe and Japan, both of which are seeing excess liquidity in the form of quantitative easing. Also, the Fed could be the first major central bank to hike interest rates. This divergence has led to a strengthening of the dollar.
The US economy is relatively robust, especially in comparison to the economies of Europe (FEZ) and Japan (DXJ). This has led to an even stronger dollar. In fact, this is the main reason for the difference in central bank policies.
A stronger dollar, though, is a major headwind for export-oriented companies like Apple (AAPL) and Caterpillar (CAT), as their products get expensive in economies like Europe and Japan.
Also, a stronger dollar affects returns on your international investments (ACWI).