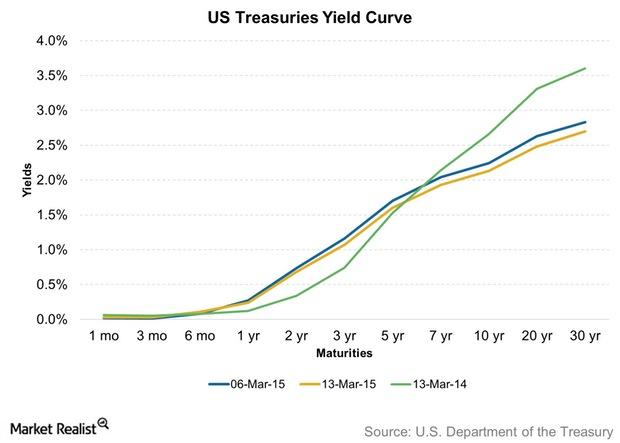 Start of Eurozone Bond Buying Pushes Treasuries Higher
Secondary market
Treasury yields fell nearly across the curve in the week ending March 13, 2015. The start of the Eurozone bond buying program was the primary driver of the fall. The fall was in the range of 3–15 bps (basis points) from one to 30-year maturity securities. However, yields in the one to six-month maturity rose from the previous week. The highest fall in yields was seen on the 20-year bond. Yields declined by 15 bps from the previous week. Yields on the benchmark ten-year note ended at 2.13%—down 11 bps from the previous week.
Article continues below advertisement
Eurozone bond buying drives yields down
The bond buying program, announced by the ECB (European Central Bank) in January 2015, commenced during the week. Due to purchases by the Eurozone's central banks, European bonds rallied. Bond purchases included German bunds. They're trading with a negative yield. Mario Draghi, the ECB president, announced buying 60 billion euros worth of European debt every month.
Due to the purchase of European debt, yields on those securities fell. This made the higher yielding US Treasuries look attractive. As a result, investors flocked to Treasuries. This drove their yields down.
Retail sales drive yields lower
Last week, economic releases were thin. Among the indicators released, a fall in US retail sales had the largest impact. An advance report by the Commerce Department showed that retail sales fell for the third month in a row in February. This was the first decline for three months in a row since 2012.
Department stores' sales fell in February. However, the week was mixed for retailer stocks. While Target (TGT) and JCPenney (JCP) stock rose 2.5% and 1%, respectively, Sears (SHLD) stock was down 2% for the week.
We'll look at economic indicators in more detail in this series. We'll also look at the activity in the primary market last week.
Investment impact
The fall in Treasury yields across most maturities led to a rise in associated ETFs as prices and yields are inversely related. The iShares Barclays 20+ Year Treasury Bond Fund (TLT) rose the most. It was up 2.6% for the week. The iShares Barclays 7-10 Year Treasury Bond Fund (IEF) rose 1%.
ETFs tracking the broader fixed income market also increased. The Vanguard Total Bond Market ETF (BND) and the iShares Core U.S. Aggregate Bond ETF (AGG) rose 0.6% each during the week.
In the next part of this series, we'll look at the bond and note auctions that took place last week.