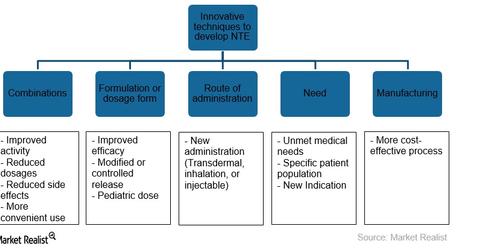 Specialty Generics: Why Are They Getting More Attention?
By Nicole Sario

Updated
Introduction to specialty generics
There are two categories of specialty generics:
NTE (New Therapeutic Entities)
Complex Generics
In this part of the series, we'll discuss NTE. NTE is also known as "super generics," "value-added generics," or "hybrid generics." In the US, the term "super generics" isn't recognized by the FDA (U.S. Food and Drug Administration). They're the improved or enhanced version of approved drugs.
Super generics could be developed through a new route of administration, strength, dosage form, and combinations or device innovations to address specific patient needs.
Please refer to the above chart for the innovative techniques used to develop NTE. A few of the most popular ways to develop NTE are:
Article continues below advertisement
pediatric dose forms – the development of a dosage form for children with widely varying age and weight
fixed-dose combinations – the combination of two or more APIs (active pharmaceutical ingredients) in a fixed proportion in a single dose. For example, the cold and flu tablet is a combination. Benefits of combination drugs are convenience, reduced pill burden, and cost.
modified-release versions – designed to release a drug in a controlled manner to achieve desired efficacy and safety. A few examples are an extended release drug and a targeted delivery drug.
It takes three or four years for product development and approval. These products enjoy low risk and high margins compared to newly patented drugs. If a branded company launches "new therapeutic entities" of its own patented drugs, then the practice is called "life-cycle management" or "product line extensions."
Generics versus NTE
market exclusivity – the major advantage that NTE offers over generics
patent protection – NTE qualifies in some cases
Higher investment and technological knowledge – NTE require this, unlike generics
Teva (TEVA) has an NTE program to identify and develop new specialty medicines. Mylan's (MYL) branded specialty products consist primarily of injectables and nebualizers. Actavis (ACT) has modified and transdermal products. Hospira (HSP) has properietary specialty injectables in its portfolio.
The industry's value can also be capitalized through pharmaceutical ETFs like the S&P Health Care Select Sector Index (XLV) and the SPDR S&P Pharmaceuticals ETF (XPH).