Why Spanish and Italian Bonds Appear Attractive
By Russ Koesterich, CFA

Mar. 13 2015, Updated 3:05 p.m. ET
In fixed income, we find short-dated Spanish and Italian debt relatively attractive, as we expect spreads to continue to compress against German bonds. European investment grade debt could also benefit from investors seeking more yield. Finally, we expect a weaker euro, even as we take into account that the euro/U.S. dollar exchange rate has already fallen from a one-year high of 1.39 in March 2014 to the current level of 1.13.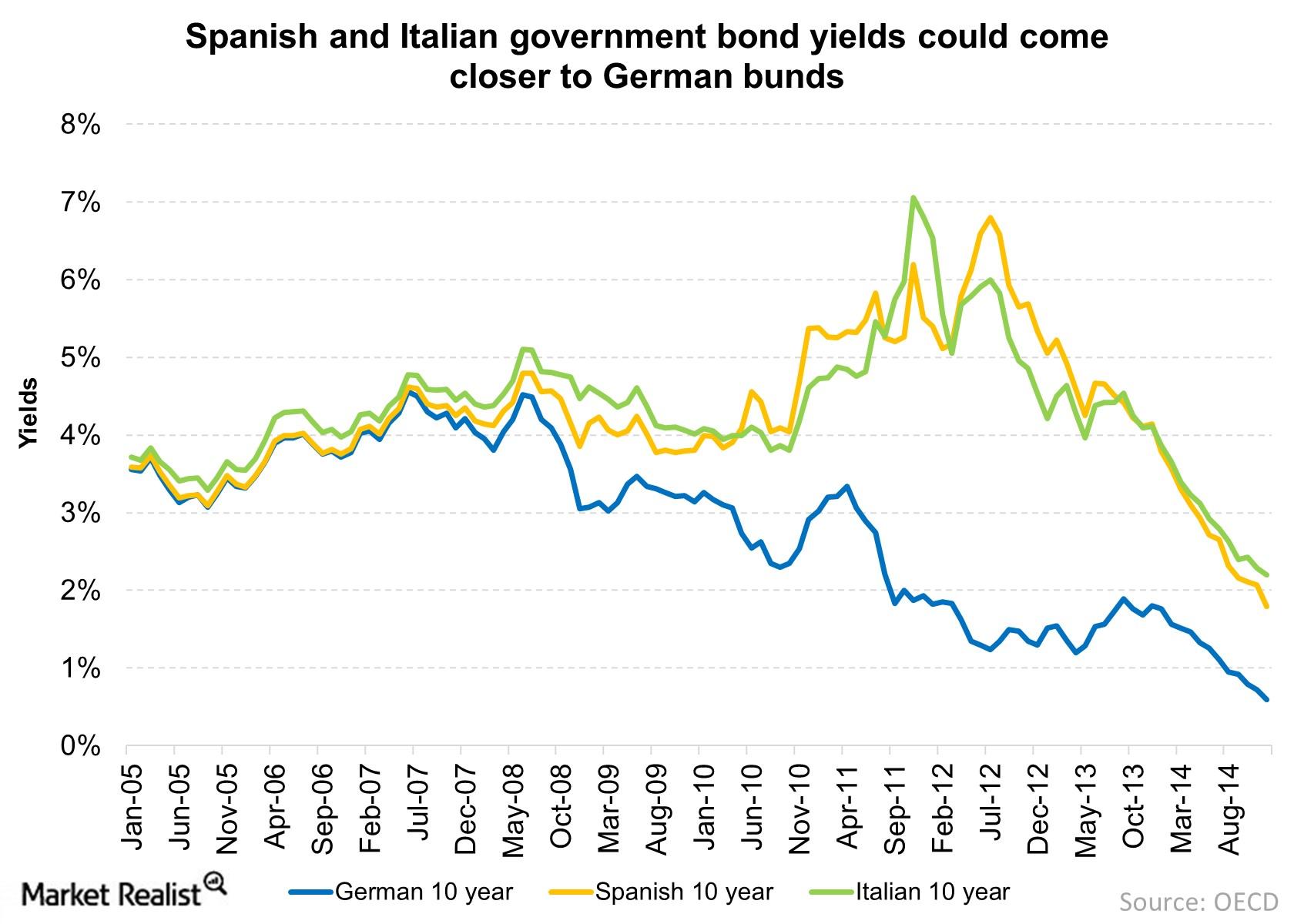 Article continues below advertisement
Market Realist – Spanish and Italian bonds appear attractive.
The graph above shows the yield on the ten-year German Bund, along with the yield on the ten-year Spanish and Italian government bond. The German ten-year has slipped below 1%, while the Spanish and the Italian bonds have also slipped. The spread between the German bond and the Spanish bond and between the German and the Italian bond is 120 basis points and 160 basis points, respectively. The German bond yields are even lower than the US Treasury (TLT)(IEF) yields.
These bonds seem to be a bargain, relative to the spread levels seen ten years back. However, remember that the German Bund is a safe haven relative to the Italian and Spanish bonds, and thus commands a premium over the two.
If Spain (EWP) follows the path of Greece (GREK), by electing leftist government "Podemos", Spanish bond yields will likely spike.
The European QE would lead to European yields falling even further, which could support European equities (EZU)(VGK) for a while, as discussed earlier.
Read Market Realist's series on Why European Euphoria Isn't Likely to Last for more on the effects of the European QE.