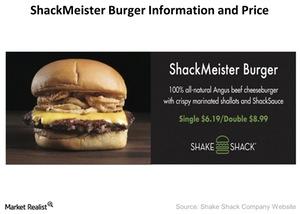 Shake Shack Renos Its Flagship Store and Launches a New Burger
By Adam Jones

Updated
New menu introduction
Attractive promos and menu items drive restaurants' traffic and ticket, which together drive same-store sales. Restaurants constantly innovate their menus—including big brands such as McDonald's (MCD), Burger King (QSR), and Wendy's (WEN).
Shake Shack introduced the ShackMeister Burger last quarter. According to the company, this burger boasts "100% all natural Angus beef" along with marinated shallots, and ShackMeister Ale. The company stated that it will discontinue this burger in spring.
Article continues below advertisement
"Stand for something good"
"Stand for something good" is Shake Shack's slogan about being connected to the environment and society. This branding is similar to Chipotle Mexican Grill's (CMG) "Food With Integrity" and Panera Bread's (PNRA) food policy of clean ingredients. Shake Shack rolled out non-GMO (non–genetically modified organisms) hot dog and burger buns.
During Chipotle Mexican Grill's 3Q14 earnings call, management stated that the company's food policy has appealed to the Millennial generation. So the introduction of this policy and these menu items should also be positive for ETFs such as the Consumer Discretionary Select Sector SPDR ETF (XLY), which holds about 1% of Chipotle Mexican Grill (CMG).
Shake Shack's flagship store closure and why same-store sales matter
During the quarter, SHAK closed its flagship store at Madison Square Garden for renovation. This affected the company's same-store sales.
For companies like McDonald's (MCD), introducing new menu items matters more because it has penetrated deeply into markets with several locations. So investors can look at same-store sales growth numbers and determine if the restaurant is performing well or stumbling. MCD's same-store sales declined 4% in the US in February 2015. Although this decline is bad news for MCD, the stock hasn't declined because its value is driven by the vast real estate holdings in the company's portfolio.