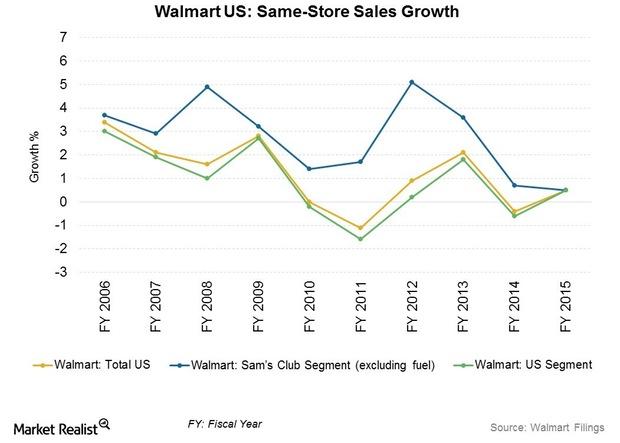 Why We're Seeing Positive Trends For Mass Merchandisers
Walmart's revenues
Walmart (WMT) reported 4Q15 revenues of $131.6 billion and fiscal 2015 revenues of $485.7 billion. These were up 1.4% and 2%, respectively, from the corresponding period in the last fiscal year.
Article continues below advertisement
Higher dollar
The US dollar has appreciated significantly over the past year. Between the end of 2013 and January 2015, the trade-weighted US dollar index rose 12.6%. This impacted results not only for Walmart, but also for other US consumer firms with significant operations abroad.
The company estimates an adverse impact on the top line of $2.6 billion for 4Q15 and $5.3 billion for fiscal 2015. Excluding the impact of currency movements, Walmart's revenues rose by 3.5% for 4Q15 and 3.1% for fiscal 2015, year-over-year.
Same-store sales
Revenues were also impacted by positive same-store sales growth in the vital US market. Both Walmart US and Sam's Club segments reported 0.5% comps growth for the year, excluding fuel for Sam's Club. For 4Q15, US comps were even stronger, with Walmart US and Sam's Club reporting an increase of 1.5% and 2%, respectively.
US comps benefited from lower energy prices at the pump, lower inflation, a competitive pricing environment, and an improving labor market, which we'll discuss in Parts 9 and 10. Better weather compared to the previous year also helped. Last year's polar vortex resulted in a bitterly cold winter.
Article continues below advertisement
Mass merchandisers outperform
These factors also benefited Walmart's fellow mass merchandisers, including Target (TGT), which beat sales estimates in 4Q15. Same-store sales grew 3.8% in the quarter, outpacing Walmart (WMT). Both Target (TGT) and Walmart (WMT) have faced sluggish same-store sales growth in recent quarters, so the turnaround was a welcome one. Costco Wholesale (COST), on the other hand, reported a jump of 8% in US same-store sales in the quarter ending February 15, 2015, excluding gasoline sales.
Walmart and its peer mass merchandisers Costco Wholesale and Target are part of several ETFs, including the SPDR S&P Retail ETF (XRT). They make up ~2.9% of the portfolio holdings of XRT. As S&P 500 Index components, Walmart, Costco, and Target together constitute 1.3% of the portfolio holdings of the SPDR S&P 500 ETF (SPY).