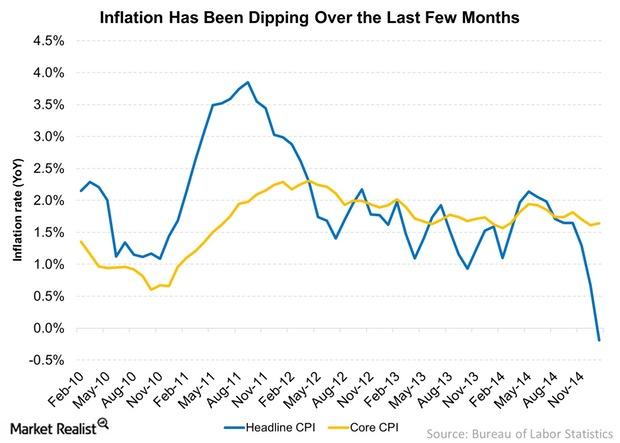 Why Robust Growth Could Lead to an Early Rate Hike
By Matt Tucker, CFA

Dec. 4 2020, Updated 10:52 a.m. ET
In previous posts, I outlined three major drivers that have kept interest rates low. Let's take a fresh look at those forces to see how they might impact 2015:
U.S. growth and inflation – Both growth and inflation should continue to be moderate. In December a very large (+5.0% YOY) change in third quarter GDP was a positive surprise for the market (SPY)(IVV). However, we expect that 2015 growth will likely come in at a more modest 2.5-3%. Inflationary pressures have declined as the price of oil has fallen below $50 a barrel, and most inflation measures are around or below 2%. Overall moderate growth and modest inflation is likely to continue in 2015.
Article continues below advertisement
Market Realist – Robust growth could lead to an early rate hike—despite low inflation.
The graph above shows the year-over-year headline and core inflation rate based on the CPI (consumer price index). The latter excludes volatile items like food and oil, which makes it steadier than the former. As you can see, headline inflation has plummeted over the last few months. Inflation in January came in at -0.2%, which is usually an indicator of recession. However, this was mainly due to the huge slump in oil (USO), which has dipped by ~50% since mid-2014.
Core CPI, meanwhile, came in at a steady 1.6% for January. This is also a relatively low figure. If oil prices remain low for a long period, the effect will cascade across the supply chain, which will lead to a fall in core CPI figures as well.
Low inflation rates are one of the reasons why Treasury (TLT)(IEF) yields have remained low, as they give the Fed some leeway in terms of controlling the federal funds rate. A higher inflation rate could have led to an early rate hike, which could have led to a spike in yields. However, despite lower inflation rates, the Fed could hike rates as early as June. Read the rest of this series to find out why.
The amount of job creation in an economy is often used as a proxy for growth in the economy. The graph above shows the number of jobs created over the last 14 months. Job creation has been robust, with at least 200,000 jobs added in the last 13 months. Two million jobs have been created in the last seven months.
However, retail sales have contracted in the last three months despite lower oil prices—which are like a tax cut for consumers—and are a negative for the economy. However, this is probably due to bad weather, which deters people from going out.