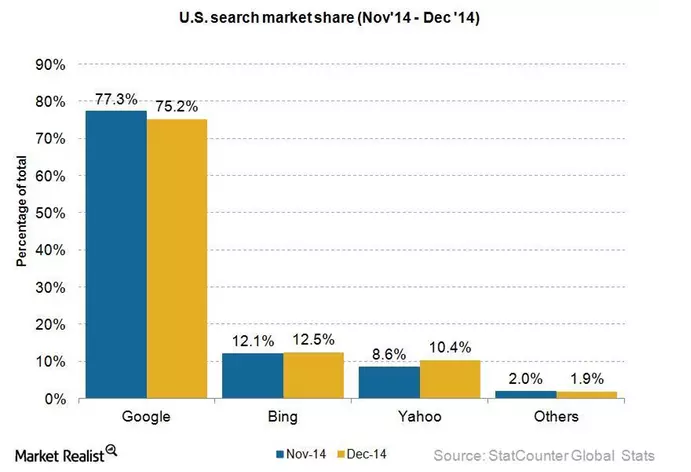 Renaissance Technologies starts a new position in Yahoo
By Adam Rogers

Mar. 6 2015, Updated 5:06 p.m. ET
Renaissance Technologies and Yahoo
Renaissance Technologies has started a new position in Yahoo (YHOO). The investment represents 0.19% of the overall hedge fund's portfolio. The fund bought shares worth $82 million, as per the latest 13F filings for 4Q14.
Yahoo has a 0.21% exposure to the SPDR S&P 500 (SPY). The ETF tracks the overall performance of 500 publicly traded companies in the growth sector.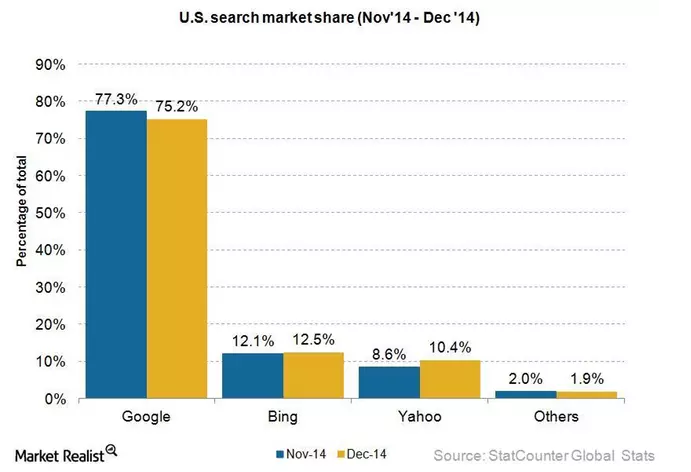 Article continues below advertisement
Overview of Yahoo
Yahoo is a US-based multinational Internet corporation founded in 1994 and headquartered in California. Together with its consolidated subsidiaries, the global technology company provides a range of products and services, many of which are personalized:
search
content
web communications tools
mobile communications tools
The company earns revenue largely by advertising to its 800 million monthly users through various products and platforms.
Yahoo partners with Firefox
In November 2014, Yahoo signed a deal with Mozilla agreeing to replace Google (GOOG) as Mozilla's default search engine for desktop and mobile devices. As per Mozilla's CEO, Chris Beard, "Firefox users search the web more than 100 billion times each year. Now, these searches can be powered by Yahoo." Marissa Mayer, the CEO of Yahoo, believes the deal will help Yahoo grow in its mobile search ad share.
Although Firefox's share is relatively small compared to Google's Chrome, Microsoft's (MSFT) Internet Explorer, and Apple's (AAPL) Safari, the deal will still drive millions of queries to Yahoo each month, which will boost search-related ad revenue.
Article continues below advertisement
Yahoo dumps plan to acquire AOL
In November 2014, the activist hedge fund Starboard Value had asked Yahoo to consider acquiring AOL, as it believed the combined entity would then be able to challenge the dominance of Facebook and Google in the digital advertising space. However in January 2015, the CEO of Yahoo stated, "We don't see a particularly accretive contribution. I do think that we have some skepticism around the synergies that are being posited."
Yahoo's acquisition of Tumblr generates revenues
In May 2013, Yahoo announced its plan to acquire Tumblr, a micro blogging site for $1.1 billion. Tumblr is one of the fastest-growing media networks in the world with more than 300 million monthly unique visitors, in addition to approximately 120,000 sign ups every day.
Since its acquisition of Tumblr, Yahoo stated that Tumblr's audience grew from 300 million users to over 420 million users, an increase of almost 40%. The number of registered blogs has also nearly doubled from 105 million to 206 million. For the mobile app, the mobile monthly users grew by 50%.
In the 3Q14 earnings call, Marissa Mayer mentioned that the number of monthly active users on Yahoo and Tumblr exceeds 1 billion users. Monthly active users have increased 6% over the previous year. Yahoo's competitor Twitter has 284 million monthly active users that engage with its platform. Since the acquisition, mobile traffic has also been growing faster, as there are in excess of 500 million active monthly users across Yahoo and Tumblr on a device basis.