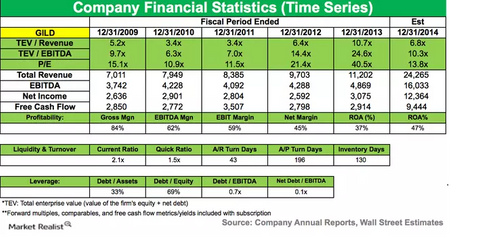 Renaissance Technologies starts new position in Gilead Sciences
By Adam Rogers

Updated
Renaissance Technologies and Gilead Sciences
Renaissance Technologies has started a new position in Gilead Sciences (GILD) and the investment represents 0.21% of the overall hedge fund portfolio. The fund bought shares worth $88 million, as per its latest 13F filings for 4Q14.
Article continues below advertisement
Overview of Gilead Sciences
Gilead Sciences is a research-based biopharmaceutical company that discovers, develops, and commercializes innovative medicines for life-threatening illnesses around the world. Gilead's primary focus areas include:
human immunodeficiency virus (or HIV)
liver diseases such as chronic hepatitis B virus (or HBV) infection and chronic hepatitis C virus (or HCV) infection
oncology and inflammation
serious cardiovascular and respiratory conditions
Gilead Sciences announces 4Q14 results
In February 2015, Gilead announced its 4Q14 results and reported revenues of $7.3 billion, a significant increase of 137% compared to $3.1 billion for 4Q13. Net income for 4Q14 was $3.5 billion, or $2.18 per diluted share, compared to $791 million, or $0.47 per diluted share, for 4Q13.
Revenues for the financial year 2014 were $24.9 billion compared to $11.2 billion for 2013, an increase of 127%. Net income for 2014 was $12.1 billion, or $7.35 per diluted share, compared to $3.1 billion, or $1.81 per diluted share, for 2013.
Article continues below advertisement
Gilead's management said, "The past year was marked by the launch of our first oncology product, second HCV medication, and regulatory filings for the next generation HIV medicine, E/C/F/TAF, and a doubling of product revenues relative to 2013. We are entering 2015 with financial strength, a portfolio of 19 marketed products that are addressing significant unmet medical needs and a pipeline for which we expect a number of milestones and data readouts during the coming year."
Gilead announces dividend and share buyback program
In February 2015, Gilead announced that its Board of Directors authorized a dividend program where the company will pay quarterly dividends of $0.43 per share starting in 2Q15. The Board of Directors also approved share repurchase of up to $15 billion of the firm's common stock.
GILD has a 0.83% exposure to the SPDR S&P 500 ETF (SPY), 3.11% exposure to the Power Shares QQQ ETF (QQQ), 5.63% exposure to the Health Care Select Sector SPDR Fund ETF (XLV), and 7.60% exposure to the iShares Nasdaq Biotechnology ETF (IBB).
SPY tracks the overall performance of 500 publicly traded companies in the growth sector, QQQ tracks the performance of 107 publicly traded technology companies, XLV tracks the performance of 58 publicly listed companies in the healthcare sector, whereas IBB tracks the performance of 150 publicly listed companies in the healthcare sector.
In addition to Gilead, Renaissance Technologies sold its position in Medtronic (MDT), which had acquired Covidien (COV) earlier this year. The fund also increased its position in Colorox (CLX).