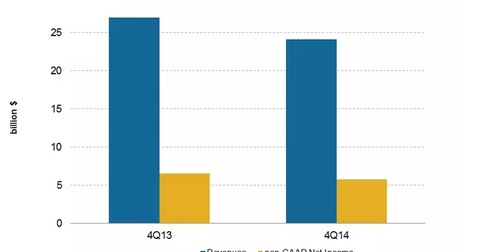 Renaissance Technologies increases position in IBM
By Adam Rogers

Updated
Renaissance Technologies and International Business Machines
Renaissance Technologies has increased its position in International Business Machines (IBM) by over $100 million, and the position represents 0.26% of the total portfolio in 4Q14, up from 0.02% in the third quarter.
IBM has a 0.79% exposure to the SPDR S&P 500 (SPY). SPY tracks the overall performance of 500 publicly traded companies in the growth sector.
Article continues below advertisement
Overview of the company
IBM is a technology and consulting firm. Its capabilities include services, software, systems, fundamental research, and related financing. IBM believes its strategy is one of innovation, transformation, and a constant evolution to higher value.
In November, IBM unveiled IBM Verse, which is a web-based email service. IBM will offer IBM Verse for free to individuals and it will offer a paid commercial version to businesses.
IBM posts weak 4Q14 results
In January 2015, IBM declared its 4Q14 results and reported revenues of $24.1 billion, a decline of more than 12% on a year-over-year (or YoY) basis, with 10 percentage points attributable to the impact of divestitures and currency.
On a non-GAAP (or generally accepted accounting principles) basis, the company's net earnings per share slid by 6% YoY to $5.81 in 4Q14 due to substantial tax headwinds. The consensus estimate of revenue was $24.8 billion and non-GAAP earnings per share were $5.41. Upon the announcement on January 20, IBM's stock price fell 1.6%.
Divestiture of non-core businesses
In early 2014, IBM sold its customer care outsourcing business to SYNNEX Corporation (SNX) for $505 million. As part of the deal, IBM received $430 million in cash up front and $75 million of SYNNEX stock in a multiyear agreement.
In October, IBM disposed of its x86 server business for $1.8 billion in cash and $280 million in Lenovo stock, for a total of $2.1 billion.
In October 2014, IBM divested its semiconductor technology business to GLOBALFOUNDRIES and this agreement enabled IBM to concentrate on fundamental semiconductor research and development. For the next ten years, GLOBALFOUNDRIES will be IBM's exclusive provider of server processor technology for 22-nanometer (or nm), 14-nm, and 10-nm semiconductors. As the chip unit was unprofitable at the time of the divestiture, IBM agreed to pay GLOBALFOUNDRIES $1.5 billion over the next three years.
IBM's management said that the "divested businesses were adversely impacting profitability and that they were no longer complementing the company's core businesses".
IBM is a component of the Technology Select Sector SPDR Fund (XLK) with a weighting of 3.64%. The ETF's top three positions are Apple (AAPL), Microsoft (MSFT), and Verizon (VZ), which have weightings of 16.19%, 9.71%, and 4.96%, respectively.