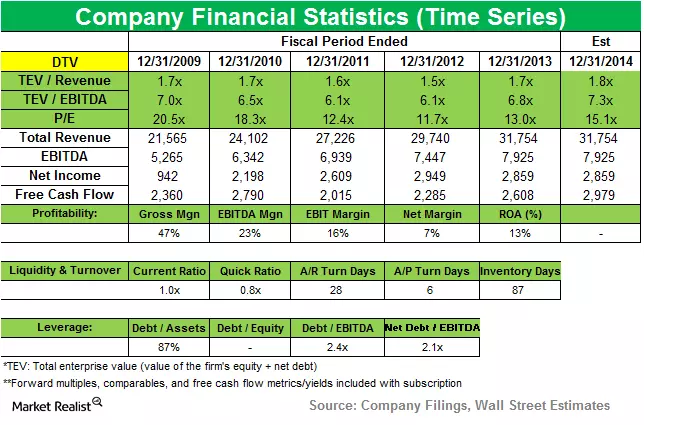 Renaissance Technologies increases position in DIRECTV
By Adam Rogers

Aug. 18 2020, Updated 5:27 a.m. ET
Renaissance Technologies and DIRECTV
Renaissance Technologies has increased its position in DIRECTV (DTV) by over $141 million. The position represents 0.36% of the fund's total portfolio in 4Q14, up from 0.02% in the third quarter.
Article continues below advertisement
Overview of DIRECTV
DIRECTV is a provider of digital television entertainment in the United States and Latin America. It operates two direct-to-home (or DTH) business units: DIRECTV US and DIRECTV Latin America.
DIRECTV Latin America owns approximately 93% of Sky Brasil, 41% of Sky Mexico, and 100% of PanAmericana. DIRECTV's Latin American business is the leading pay-TV provider in the region with more than 18 million subscribers, including all Sky Mexico customers. The region has an under-penetrated pay-TV market with about 40% of households subscribing to pay-TV. The region also has a growing middle class, which is DIRECTV's fastest-growing customer segment.
DIRECTV's 4Q14 and full-year results beat estimates
In February 2015, DTV announced its 4Q14 and full-year results for the financial year 2014. DTV reported 4Q14 revenues of $8.92 billion, an increase of 4% on a YoY (year-over-year) basis, whereas full-year revenues were up by 5% at $33.3 billion.
DIRECTV's 4Q14 earnings per share (or EPS) was unchanged at $1.53 compared to last year's fourth quarter. The EPS for the financial year 2014 was $5.40, up from $5.17 in the year 2013. The free cash flow decreased to $814 million in 4Q14 from $1 billion in 4Q13, whereas it was $3.1 billion for the year ended December 31, 2014, up from $2.6 billion in the financial year 2013.
Article continues below advertisement
Mike White, president and CEO of DIRECTV, stated, "Our fourth quarter results, although marked by challenging macroeconomic conditions in Latin America and a conscious decision to reinvest in our US business, capped off another strong year of operations for DIRECTV. 2015 will bring additional challenges to our businesses, but given our solid continued operating momentum and the pending merger with AT&T, I am confident that we will continue to drive value for our shareholders for the foreseeable future."
DIRECTV and Walt Disney sign expansive agreement
In December 2014, DIRECTV and Walt Disney (DIS) announced an agreement that will offer DTV customers access to Disney's expansive list of top quality news, sports, and other entertainment content across televisions, tablets, computers, and other devices. This will complement DIRECTV's as well as Disney's goal to deliver the best content in video across various platforms.
DIRECTV has a 0.24% exposure to the SPDR S&P 500 (SPY) and the iShares Core S&P 500 ETF (IVV), whereas Disney has a 7.07% exposure to the Consumer Discretionary Select Sector SPDR Fund ETF (XLY). SPY and IVV track the overall performance of 500 publicly traded companies in the growth sector and XLY tracks the performance of 87 publicly listed companies in the consumer sector.
DIRECTV and its competitor Dish Network (DISH) are listed on the Power Shares QQQ ETF (QQQ), which lists 107 publicly traded companies in the technology sector. While DTV has a 0.88% exposure to the ETF, DISH has an exposure of 0.34%.