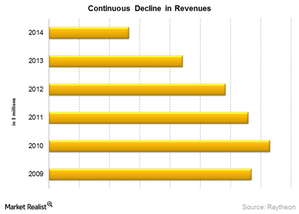 What Are Raytheon's Strengths and Weaknesses?
By Ally Schmidt

Updated
Raytheon's strengths
Raytheon (RTN) has a series of strengths and weaknesses. We'll discuss its strengths first.
Article continues below advertisement
Strong financials
Raytheon (RTN) is a global leader in defense and government solutions. It has more than 15,000 individual contracts. The company is a strong contractor for the US government. It's important to note that 50% of its contracts come from the U.S. Department of Defense, or DOD. The company has a strong financial position. It has a balanced and strong portfolio of products and services. Raytheon has also been able to grow its earnings per share, or EPS, continually for the past five years despite the revenue decline. Its cash flows are also strong.
Better international business
Raytheon successfully grew its international sales for the past few years. It had major growth in foreign military products and services. The international business contributed to about 29% of the total net sales in 2014. This growth indicates the growing demand for the company's products in other countries.
Article continues below advertisement
Innovative solutions
Raytheon prides itself in having strong domain knowledge and technological leadership over its competitors. This helped create expanding opportunities in its core defense markets and its focused growth areas—like mission support systems, effects, C3I (Command, Control, Communications and Intelligence) systems, sensing technologies, and the cybersecurity market.
Weaknesses
Raytheon also has a series of weaknesses that impact its overall performance.
Article continues below advertisement
Revenue declined for four years in a row
Even though it had a strong product profile, Raytheon hasn't been able to beat the budget blues. The company reported lower revenue in each of the past four calendar years. It expects this to continue next year. Even though the company has been beating its quarterly earnings estimates and its stock steadily beat the S&P 500, the continuous decline in revenue is a concern.
Declining cash
Raytheon had stagnant or lower business in terms of revenue and backlogs. It had improved earnings and a book-to-bill ratio. However, the company experienced a decline in its cash productions. For 2014, its free cash flow was only $1.7 billion. This is 17% lower compared to the previous year's results.
Raytheon forms a 1.22% holding of the iShares U.S. Industrials ETF (IYJ). Other aerospace companies included in IYJ are United Technologies (UTX), Honeywell International (HON), and General Dynamics (GD). They have 3.78%, 2.94%, and 1.60% holdings, respectively.