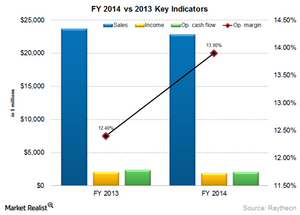 Raytheon's Full-Year 2014 Performance Was Stagnant
By Ally Schmidt

Updated
Raytheon's full-year 2014 performance
Compared to a mixed fourth quarter performance, Raytheon's (RTN) full-year 2014 performance was disappointing. The company's revenue fell short of last year's numbers by about 4%. The revenue for the full-year 2014 was $22.8 billion. The decline was due to poor performance across all four of the company's segments—especially in the IDS (Integrated Defense Systems) and SAS (Space and Airborne Systems) segments.
The IDS segment's decline was partially offset by higher net sales from an international air defense system program and the Patriot program. The land warfare systems' programs also saw planned declines in production due to the US Army's budget environment.
However, on a positive note, the company saw continuous growth in its international sales for the past few years. For 2014, the international sales were 29% of the total net sales.
Article continues below advertisement
Raytheon had to deal with a difficult contractual environment during 2014. Its operating margins shot up by 135 basis points to reach 14.9% at the end of the year. This was due to major margin declines in the IDS and SAS segments. However, the company was able to generate strong cash flows of about $2.1 billion during the year. Strong cash flows were generated during all of the quarters in 2014.
During the year, the total bookings were $24.1 billion. This resulted in a book-to-bill ratio of 1.05 for the year. At the end of the year, the total backlog remained almost constant at $33.6 billion. This was due to growth in the foreign military sales' backlog and non-US government backlog. The earnings per share, or EPS, grew by 16.9% year-over-year, or YoY, to $6.97. The company saw better ratings for the year. This helped increase its net debt from $204 million to $623 million during the year.
As a result, 2014 was more or less a stagnant year for the company. In the next part of this series, we'll analyze how the individual segments contributed to the company's performance.
Raytheon forms a 1.22% holding of the iShares U.S. Industrials ETF (IYJ). Other companies included in the ETF are General Electric (GE), Union Pacifc (UNP), and 3M (MMM). They have 9.19%, 3.93%, and 3.90% holdings, respectively.