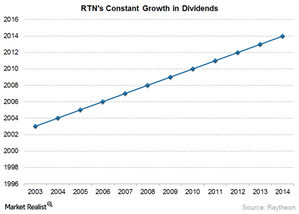 Is Raytheon an Attractive Investment Option?
Strong dividend payer
Perhaps Raytheon's (RTN) biggest strength is its dividend payout. In the past decade, the company paid more than $5.3 billion in dividends to its shareholders. The company has a dividend yield of 2%. It has a dividend cushion ratio that's more than two. This means that it can cover future expected dividends paid over the next five years more than two times.
However, other aerospace companies also have a high dividend payout history—like Lockheed Martin (LMT), Boeing (BA), and General Dynamics (GD). Together these companies form an 8.94% holding of the Vanguard Industrials ETF (VIS).
Article continues below advertisement
Not an impressive stock value return
Even though the company has a strong dividend payout, its stock market value hasn't been impressive. An investment in the stock would have generated about 94% returns in the past five years. This is just slightly more than the 88% returns from the S&P Index.
Other indicators
Raytheon has a strong three-year historical return on invested capital, without goodwill, of about 104.8%. This is above the estimate of its cost of capital of 10.1%. Historically, the company also generated strong cash flows that helped fund its investments in R&D (research and development), pay dividends, and other activities.
In 2014, the company repurchased 2.1 million shares in the first quarter, 2.6 million shares for $250 million in the second quarter, 2.1 million for $200 million in the third quarter, and another $100 million in the last quarter. The numbers might be lower than last year. However, it indicates that the company is actively trying to use its strong cash flow positions to return value back to shareholders. In contrast, this lower stock buyback can also mean that the company isn't as bullish on its business outlook.
Conclusion
With an increasing global war scenario and a growing need for more complex and advanced defense products and strategies, it looks like the defense sector still has room to grow in the future. Recently, the company has been facing some tough times. However, it has been able to build substantial cash from operations and an impressive backlog.
Also, the company has a P/E (price-to-earnings) ratio of about 16.5. This is well below most of its competitors in the industry as well as the industry average of 17. Also, its price-to-book ratio is 3.10. This is below the comparable average of 4.05. Its return on investment, return on equity, and net profit margins are on the higher ends.