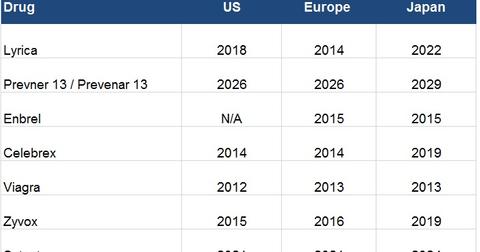 What Products Affect Pfizer's Revenue?
By Mike Benson

Updated
Products affect Pfizer's revenue
In the last three years, Pfizer (PFE) consistently recorded direct product sales of over $1 billion for each of its ten biopharmaceutical products. These products include Lyrica, the Prevnar family, Enbrel, Celebrex, Lipitor, Viagra, Zyvox, Sutent, Norvasc, and the Premarin family.
These ten highly-valued biopharmaceutical products contributed nearly 54% of total revenue in 2014, 51% in 2013, and 50% in 2012. The above chart shows the change in revenue for each of the ten key products.
Article continues below advertisement
Products at a glance
Lyrica is classified under the GIP (Global Innovative Products) and the GEP (Global Established Products) segments. It's a drug that's used for epilepsy, post-herpetic neuralgia, and various other symptoms. Lyrica is Pfizer's largest selling drug. The drug's revenue grew ~12% in 2014—compared to the revenue in 2013.
The Prevnar family is classified under the GVOC (Global Vaccines, Oncology and Consumer Healthcare) segment. It includes vaccines to prevent pneumococcal diseases. The drug's revenue grew ~12% in 2014—compared to the revenue in 2013. The Prevnar family has two main products—Prevnar 13 and Prevnar 7.
Enbrel is used to treat arthritis. It's classified under the GIP segment. The drug's revenue grew ~2% in 2014—compared to the revenue in 2013. Pfizer sells Enbrel outside the markets in the US and Canada. For the US and Canadian markets, the company gets royalties according to the collaboration agreement with Amgen (AMGN).
For the rest of Pfizer's drugs, there was a dip in sales. The patents for drugs, including Viagra and Celebrex, already expired. This impacted Viagra's sales. Viagra is a drug for erectile dysfunction. Viagra's sales decreased by ~10%. Celebrex is a drug for arthritis pain. It decreased by ~8%.
Patents and IPR
Patents are the exclusive rights granted for an invention. The patents are classified as IPR (Intellectual Property Rights). A patented product can't be made, used, distributed, or sold commercially without the patent owner's consent. In general, these rights are specific in each country. The patents for basic drugs are listed below. They have different expiration dates in the various countries.