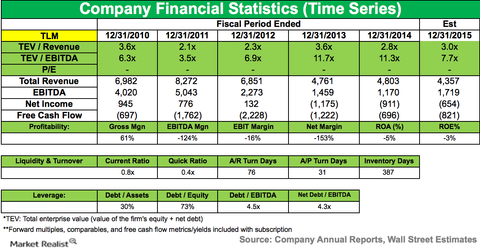 Point72 Asset Management Exits Its Stake in Talisman Energy
By Diana Key

Updated
Point72 Asset Management and Talisman Energy
Point72 exited its stake in Talisman Energy (TLM) during 4Q14. The fund held 10,744,200 shares of Talisman Energy at the end of 3Q14. The company accounted for 1.03% of the fund's 3Q14 portfolio.
You can gain exposure to Talisman Energy by investing in the Vanguard FTSE All-World Ex-US Index Fund (VEU). Talisman Energy accounts for 0.04% of VEU. It also accounts for 0.42% of the iShares North American Natural Resources ETF (IGE).
Article continues below advertisement
About Talisman Energy 
Talisman Energy is a global upstream oil and gas company. It's headquartered in Canada. Talisman has two main operating areas:
Americas—North America and Colombia
Asia-Pacific
Respol to acquire Talisman
Spain's Respol is an integrated oil and gas company. It entered into a definitive agreement to acquire Talisman in an all-cash transaction for $13 billion. The purchase price includes Talisman's debt of $4.7 billion. Respol will pay $8, or 9.33 Canadian dollars, per Talisman share. The purchase price represents a 75% premium to the seven-day volume weighted average share price and a 60% premium to the 30-day volume weighted average price.
The deal will increase Respol's oil production capacity by 76% to over 680,000 barrels per day, or bpd. It will have a presence in over 50 countries. This transaction would provide tangible long-term benefits to Alberta and Canada.
Talisman shareholders approved the transaction on February 18. It also received final court approval for the acquisition. The deal is subject to regulatory approvals. It's expected to be complete by 2Q15.
Before Respol's offer, Talisman shares fell almost 66% in 2014. After the announcement of the deal, Talisman shares were up 48% on the Toronto Stock Exchange.
Article continues below advertisement
Job and capital spending cuts 
Like many other oil companies, Talisman also announced cut jobs at its head office. It will lay off 150–200 employees. This represent 10%–15% of its head office jobs. Talisman also cut its 2015 capital budget by 30% to $2.1 billion. Talisman noted that, "With low oil prices we have reduced our 2015 capital spending plans and with that reduced activity comes the requirement to make reductions" in jobs.
Continental Resources (CLR) also reduced its capital expenditure to $4.6 billion, from $5.2 billion, due to "lower commodity prices." EOG Resources (EOG) reduced its 2015 capital spending by 40%. Like Talisman, ConocoPhillips (COP) reduced its Canadian staff by 7%.
Talisman's 4Q14 loss widens on impairment charges
For 4Q14, the net loss widened to $1.59 billion, or $1.54 per share. It was $1.01 billion, or 0.98 per share, in 4Q13. In 4Q14, the net loss included after-tax impairment charges of $1.37 billion. The charges were related to the fall in the forward commodity prices of assets in the North Sea and the Equion field in Colombia. It recorded a loss of $996 million on JVs (joint ventures) that operate in the North Sea oilfield. For the quarter, the revenue was $44 million—compared to $929 million in 4Q13. The decrease was due to the losses in JVs.
For full-year 2014, there was a net loss of $911 million—compared to a net loss of $1.18 billion in 2013. Production averaged 369,000 bpd.
In the next part of this series, we'll discuss Point72's position change in Southwestern Energy.