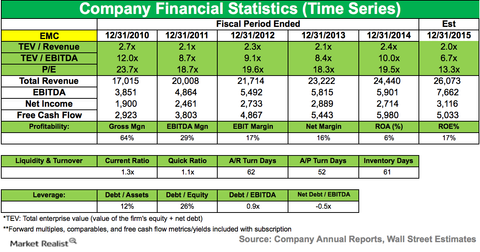 Point72 Asset Management Adds New Position in EMC Corp.
By Diana Key

Updated
Point72 Asset Management and EMC Corp.
Point72 initiated a new position in EMC Corp. (EMC) during 4Q14. The fund held 4,972,500 EMC shares. The company accounts for 1.04% of the fund's 4Q14 portfolio.
Article continues below advertisement
About EMC Corp.
EMC Corp. enables businesses and service providers to transform their operations and deliver ITaaS (IT as a service). Cloud computing is fundamental to this transformation. It helps IT departments store, manage, protect, and analyze their most valuable asset—information—in a more agile, trusted, and cost-efficient way. It manages the company as a federation of businesses—EMC Information Infrastructure, VMware Virtual Infrastructure, and Pivotal.
EMC's Information Infrastructure business has three segments:
Information Storage
Enterprise Content Division—formerly Information Intelligence Group
RSA Information Security
EMC's VMware Virtual Infrastructure business is represented by EMC's majority equity stake in VMware (VMW). VMware is the leader in virtualization infrastructure solutions. It helps organizations transform the way they build, deliver, and consume IT resources.
EMC's Pivotal business unites strategic technology, people, and programs from EMC and VMware. It built a new platform that's comprised of next generation data, agile development practices, and a cloud independent PaaS (platform as a service).
Pivotal has three primary offerings:
Pivotal Big Data Suite
Pivotal Labs
Pivotal Cloud Foundry
VMware and Pivotal are separate segments. EMC is looking for an IPO (initial public offering) of its Pivotal business.
EMC expands its foot in cloud with strategic acquisitions
EMC is expanding in the cloud space through a number of strategic acquisitions. In October 2014, EMC announced that it would acquire Cisco's (CSCO) stake in VCE. VCE is a joint venture between EMC and Cisco. EMC has an 83% stake in VCE. After the acquisition, VCE will be part of EMC's Information Infrastructure business. In October it also announced that it would acquire Maginatics—a provider of data protection across clouds. It also completed the acquisition of Cloudscaling—a developer of OCS (open cloud system) technology.
Spanning was acquired by EMC. In December 2014, Spanning announced its backup solution for Microsoft (MSFT) Office 365.
Article continues below advertisement
EMC has no plan to spin off VMware 
In October 2014, hedge fund Elliot Management—one of EMC's largest investors—urged the company for a tax-free spin-off of its 80% stake in VMware. According to the fund, the federation structure isn't suitable for EMC. The fund asked EMC to explore options before CEO Joseph Tucci's retirement in February 2015. On January 12, EMC announced the appointment of two new directors to its board. The directors were approved by Elliot.
On March 10, Tucci confirmed EMC's plans not to spin off VMware. The board is still in the process of deciding a successor for Tucci.
EMC's solid 4Q14 and full-year 2014 results
For 4Q14, EMC's revenue was $7 billion. It was up 5% year-over-year, or YoY. VMware and Pivotal drove this growth. VMware's revenue grew by 16% for 4Q14 and full-year 2014, as "customers continue investing in software-defined data center, hybrid cloud solutions and end-user computing." Pivotal's 4Q14 revenue was up by 18%. Its full-year revenue was up by 27%. It benefited from "customers leveraging the portfolio to build third platform applications that are transforming their business." GAAP (generally accepted accounting principles) diluted EPS (earnings per share) was $0.56—up 17% YoY.
For full-year 2014, the revenue increased 5% to $24.4 billion. GAAP EPS declined 1% to $1.32.
Returns to shareholders
In 2014, EMC returned $3.9 billion to its shareholders. It repurchased $3 billion of stock and paid $900 million in dividends. In 4Q14, it repurchased $1.6 billion of shares and paid $240 million in dividends. On March 2, it declared a quarterly dividend of $0.115 per share. You can gain diversified exposure to EMC Corp. by investing in the Technology Select Sector SPDR Fund (XLK). EMC accounts for 1.33% of XLK. It also accounts for 1.64% of the iShares US Technology ETF (IYW).
In the next part of this series, we'll discuss Point72's position change in LinkedIn.