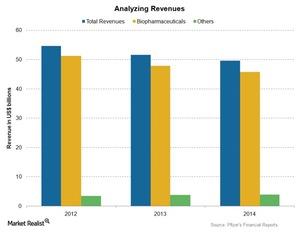 Why Is Pfizer's Revenue Stream Declining?
By Mike Benson

Updated
Revenue breakup
Pfizer's (PFE) net revenue decreased by nearly 4% to $49.6 billion in 2014. Its net revenue was $51.5 billion in 2013. For the total revenue, biopharmaceuticals' contributions decreased to 92% in 2014—compared to 94% in 2012.
The revenue in the "Others" category includes revenue from consumer healthcare and revenue generated by Pfizer CentreSource. CentreSource is Pfizer's contract manufacturing and bulk pharmaceutical chemical sales arm. It also includes the revenue related to the transitional manufacturing and supply agreement with Zoetis.
Article continues below advertisement
Factors affecting revenue
The major factors for declining revenue include:
expiry of the co-promotion term of collaboration agreement for Enbrel in the US and Canada
loss of exclusivity for Detrol LA, Celebrex, and Geodon in the US
loss of exclusivity for Viagra in major European markets
loss of exclusivity for Aricept and Lyrica in Canada
continued erosion of branded Lipitor in the US and other developed markets
ongoing termination of the Spiriva collaboration in certain countries
unfavorable foreign exchange rates
Since 2014, the company changed the segmentation from Biopharmaceuticals and Consumer Healthcare to three segments as follows:
GIP (Global Innovative Pharmaceutical) segment
GVOC (Global Vaccines, Oncology & Consumer Healthcare) segment
GEP (Global Established Pharmaceuticals) segment
We'll discuss the revenue and cost analysis for each of the segments separately.
Other companies in the industry include Johnson & Johnson (JNJ), Merck & Co. (MRK), Novartis AG (NVS), and GlaxoSmithKline (GSK). Merck & Co. forms about 6.4% of the SPDR Health Care Select Sector SPDR ETF (XLV).