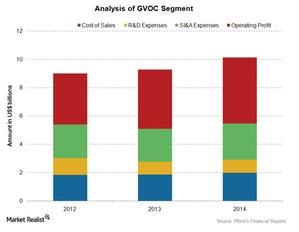 Pfizer's Global Vaccines, Oncology & Consumer Healthcare Segment
By Mike Benson

Mar. 31 2015, Updated 4:06 p.m. ET
The GVOC segment
The GVOC (Global Vaccines, Oncology & Consumer Healthcare) segment is focused on developing and commercializing the vaccines, oncology products, and consumer healthcare products. Each of the businesses in GVOC operates as a separate global business. Each business has a distinct specialization in terms of the science and market approach necessary to deliver value to consumers.
Article continues below advertisement
Revenue
The GVOC segment's revenue increased for the past three years. The revenue was $8.9 billion in 2012, $9.2 billion in 2013, and $10.1 billion in 2014. The currency had a negative impact on the entire segment.
Total revenue for vaccines increased by 13% in 2014 to $4.4 billion. The increase was primarily due to the Prevnar family. It's one of the largest contributors to the company's revenue.
Total revenue for oncology increased by 12% in 2014 to $2.2 billion. The increase was due to recent product launches for Xalkori and Inlyta globally. Bosulif was launched in the US.
Total revenue for consumer healthcare increased by 3% in 2014 to $3.4 billion. The increase was primarily due to the launch of Nexium 24HR in the US and vitamin supplements in emerging markets.
Costs
The costs for the GVOC segment are compared in the above chart. Overall, the gross profit margin increased over the last three years. It increased from 79.7% in 2012 to 80.3% for 2014.
As a percentage of revenue, the cost of sales increased in 2014 due to an increase in sales volumes.
The R&D (research and development) expenses increased by 1% in 2014 due to investment in Ibrance and the vaccine portfolio. Also, the alliance with Merck KGaA increased the R&D expenses.
The SI&A (selling, informational, and administrative) expenses increased by 10% in 2014. The increase was primarily for consumer healthcare expenses. It was also due to increased marketing expenses for Trumenba and Ibrance.
Other companies in the industry include Bristol-Myers Squibb (BMY), Eli Lily and Co. (LLY), Abbott Laboratories (ABT), and Novartis AG (NVS). Pfizer (PFE) forms about 7.80% of the Health Care Select Sector SPDR ETF (XLV).