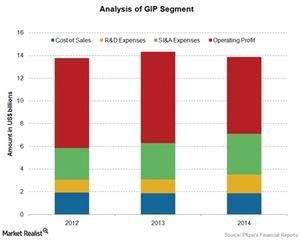 Pfizer's Global Innovative Pharmaceutical Segment
By Mike Benson

Updated
GIP segment
The GIP (Global Innovative Pharmaceutical) segment is focused on developing, registering, and commercializing value-creating medicines. The therapeutic areas for GIP include inflammation, cardiovascular or metabolic, neuroscience, pain, and rare diseases. A few of the key drugs in this segment are Xeljanx, Eliquis, and Lyrica—for the US and Japan. The company is constantly improving the pipeline of medicines in similar therapeutic areas.
Article continues below advertisement
Revenue
The GIP segment's revenue increased from $13.7 billion in 2012 to $14.3 billion in 2013. However, the revenue decreased by 3% to $13.8 billion in 2014. The decrease was due to the impact of decreased operational revenue and currency. Pfizer lost exclusivity of Lyrica in Canada. The collaboration agreement for Enbrel, in the US and Canada, also expired. By revenue, Lyrica is Pfizer's (PFE) highest selling drug.
Costs
The GIP segment's costs are compared in the above chart. Overall, the gross profit margin was around 86.6% for 2014.
As a percentage of revenue, the cost of sales increased in 2014—compared to 2013. The increase was due to an unfavorable change in product mix. This included the loss of the Enbrel alliance in 4Q13.
The R&D (research and development) expenses increased by 31% in 2014. The increase was due to incremental investments in late-stage pipeline products. The company is working to improve the product mix and cover up the losses due to recent patent expiry. As we discussed earlier, the patents for major key products either expired or are due to expire in the near future.
The SI&A (selling, informational, and administrative) expenses increased by 13% in 2014. This was due to increased marketing cost for recently launched products and certain in-line products.
There was a favorable change in the other incomes for this segment in 2014. This was due to an increase in royalty-related incomes. The income was primarily earned on Enbrel sales in the US and Canada in 4Q13. The collaboration agreement expired. As a result, Pfizer was entitled to royalties for a 36-month period.
Other companies in the industry include Johnson & Johnson (JNJ), Sanofi (SNY), Merck & Co. (MRK), and Novartis AG (NVS). Pfizer forms about 7.3% of the iShares US Health Care ETF (IYH).