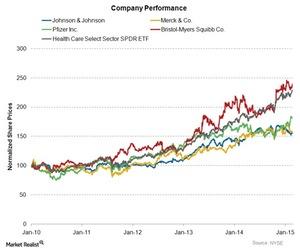 Pfizer: A Leading Pharmaceutical Company
By Mike Benson

Mar. 27 2015, Updated 4:01 p.m. ET
Company overview
By revenue, Pfizer (PFE) is one of the largest pharmaceutical companies. It's headquartered in New York City. The company's business is divided into two business segments:
Biopharmaceutical
Consumer Healthcare
The company focuses on prescription and OTC (over-the-counter) drugs.
Article continues below advertisement
Share price performance
The above graph shows Pfizer's share price performance compared to other companies in the industry. The company delivered an annual return of 18.5% from February 2010 to February 2015. In the same timeframe, Johnson & Johnson (JNJ), Merck & Co. (MRK), and Bristol-Myers Squibb Co. (BMY) delivered an annual return of 13.4%, 14.2%, and 24.9%, respectively. During this period, the annualized return for the SPDR Health Care Select Sector ETF (XLV) was 20.38%.
History
Pfizer was found by two cousins in Brooklyn, New York, in 1849. It was founded as a fine chemicals business. The company's first product was a palatable form of Santonin—an antiparasitic used to treat intestinal worms. This product was an immediate success. One of the cousins was a chemist. The other was a confectioner. They used their skills to blend Santonin with an almond and toffee flavor. They shaped it into a candy cone.
In 1900, the company filed the official certificate of incorporation in New Jersey. It was transformed into a publicly traded company in 1942. The company's common stock is listed on the NYSE. Apart from the NYSE, the company is also listed on the London Stock Exchange, Euronext, and the Swiss Stock Exchange.
The company has over 500 subsidiaries and ~78,300 employees in operations throughout the world.