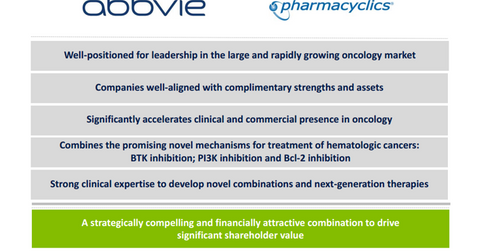 Parsing the Pharmacyclics–AbbVie Merger MAC Clause: Part 2
By Brent Nyitray, CFA, MBA

Nov. 20 2020, Updated 4:56 p.m. ET
The Pharmacyclics–AbbVie merger MAC clause
The MAC (material adverse change) clause in the Pharmacyclics–AbbVie merger agreement specifies the events that will allow AbbVie Inc. (ABBV) to back out of the deal with Pharmacyclics, Inc. (PCYC).
Please note that the following MAC clause has been paraphrased here to limit the legalese. You should still read and understand the actual language in the merger agreement.
"Company Material Adverse Effect" means any effect that, individually or in the aggregate, has a material adverse effect on the condition (financial or otherwise), business, assets, or operations of the Company and the Company Subsidiaries, taken as a whole, or on the Company's assets associated with Imbruvica; [provided, however,] that no effects resulting or arising from the following shall be deemed to constitute a Company Material Adverse Effect.
Note: This is the standard MAC language. There's a disproportionate effect clause, which means that any of the carve-outs cannot have a disproportionate effect on Pharmacyclics relative to other pharmaceutical companies.
Here are the carve-outs from the MAC clause:
Article continues below advertisement
any changes in general US or global economic conditions – In other words, a financial crisis would not be considered a MAC.
conditions (or changes therein) in any industry or industries in which the Company operates – Note that a recession is not a MAC.
general legal, tax, economic, political and/or regulatory conditions (or changes therein), including any changes affecting financial, credit or capital market conditions – For example, if Congress allows Medicare to negotiate with drug companies, that is not a MAC.
any change in GAAP or interpretation thereof – This carve-out is self-explanatory.
any adoption, implementation, promulgation, repeal, modification, amendment, reinterpretation, change or proposal of any applicable law of or by any governmental entity – This is similar to the third carve-out, that if Medicare changes reimbursement rates, that isn't a MAC.
Other merger arbitrage resources