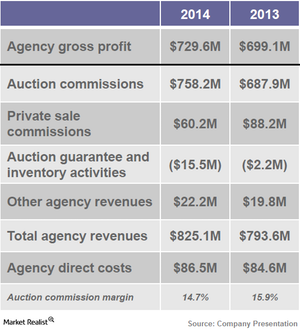 Overview of the Agency Segment of Sotheby's
By Stuart McKenzie

Mar. 18 2015, Updated 3:06 p.m. ET
Businesses of Sotheby's
Sotheby's (BID) is a major player in the global art industry. The company operates in three segments:
In this article, we will discuss the Agency segment of Sotheby's. The Agency segment is the company's largest business in terms of revenue.
Article continues below advertisement
About the Agency segment
The Agency business of Sotheby's seeks to connect sellers of high-end jewelry, decorative art, and authenticated fine art with buyers via a private sale or auction process. This segment also brokers private sales and acts as an agent for artwork sales at auctions. The Agency segment of Sotheby's accounted for 88% of the company's 2014 revenues.
Auction commissions
Sotheby's accepts property on consignment and generates buyer interest through marketing. Then, the company matches buyers with sellers via the auction process. The buyer receives an invoice for the property's purchase price, which includes commissions. Following this, Sotheby's collects payment from the buyer and remits the proceeds of the net sale to the seller after making deductions for royalties, taxes, expenses, and commissions.
The auction commissions for Sotheby's include the seller's commission and the buyer's premium, which collectively form the auction commission revenue.
Article continues below advertisement
Sotheby's also earns private sale commission revenues by directly brokering art sales and purchases. The latest annual report noted that "private sales are initiated either by a client wishing to sell property with Sotheby's acting as its exclusive agent in the transaction or by a prospective buyer who is interested in purchasing a certain work of art privately."

Agency segment's profits
The Agency business experienced a gross profit of $729.6 million in 2014, which was a 4% increase from $699.1 million in 2013. This growth was mainly due to a 10% rise in auction commission revenues.
Auction commission margin fell from 15.9% to 14.7% in 2014, partially offsetting the gross profit growth. Sotheby's secured a high-value sales and consignments mix in very competitive conditions.
Private sales commissions also decreased by 32% in 2014. Sotheby's said that the results from 2013 comprised "a significant number of individual high-value transactions."

Sotheby's has cyclical stock in the sense that the company's share prices and profits vary with the economic cycle. Other companies with cyclical stocks include the jeweler Tiffany & Co. (TIF) and fashion retailer Nordstrom (JWN).
Investors who wish to get exposure to auction house stocks should consider the Vanguard Total Stock Market ETF (VTI). Sotheby's has an exposure of 0.01% in VTI. The company also makes up 0.14% of the iShares Russell 2000 ETF (IWM).
In the next part of this series, we will take a look at the Finance segment of Sotheby's.