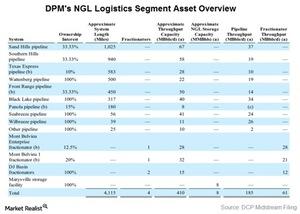 An Overview of DCP Midstream's NGL Logistics Segment
By Alex Chamberlin

Mar. 31 2015, Published 1:30 p.m. ET
NGL Logistics segment
In the previous part of this series, we looked at DCP Midstream Partners' (DPM) Natural Gas Services segment. In this article, we'll get an overview of DCP Midstream's NGL Logistics segment, including its assets and its business.
DCP Midstream's NGL Logistics segment transports NGLs (natural gas liquids) from natural gas processing plants to fractionation facilities, petrochemical plants, and NGL storage facilities operated by third parties. It operates NGL pipelines in Colorado, Kansas, Louisiana, Michigan, Oklahoma, and Texas.
DCP Midstream has NGL fractionation facilities in the DJ Basin in Colorado and at an NGL storage facility. Its NGL fractionation and storage facilities are fee-based and largely independent of the short-term effects of energy price movements.
Article continues below advertisement
Primary value drivers
Here are the primary value drivers for DCP Midstream's NGL Logistics segment:
volume of product transported
level of fees charged to customers
Let's see what affects these two factors and, in turn, how they affect DCP Midstream's business. The volume of NGL transported from processing plants to fractionators depends on energy prices.
When natural gas prices are high relative to NGL prices, it's less profitable to process natural gas. The increased cost of separating natural gas streams outweighs the benefits from producing and selling NGLs. This reduces the volume of NGLs extracted at plants. This results in lower NGL throughput.
NGL and natural gas price movement
The price of NGL decreased more than the price of natural gas in 2014, particularly in the latter half. This can cause what's called ethane rejection, which can affect DCP Midstream negatively.
Read the previous part of this series to understand natural gas and NGL price movement better. You can also read Market Realist's What is ethane rejection and why is it important for energy MLPs?.
Fixed-fee contracts result in steady cash flows for midstream energy companies. This insulates margins from short-term commodity price fluctuations. In Part 2 of this series, we looked at DCP Midstream's contracts and fees.
Fixed-fee contracts have resulted in steady margins for other midstream operators such as Sunoco Logistics (SXL), Kinder Morgan (KMI), and Williams Companies (WMB). Sunoco Logistics accounts for 4.5% of the Alerian MLP ETF (AMLP).
In the following part, we'll take a look at DCP Midstream's (DPM) Wholesale Propane Logistics segment.